How to come up with a seriously awesome blog name!

Exciting stuff, creating a blog. What're you waiting for - a flash of inspiration and an awesome blog name to magically appear? Not gonna happen! It's no easy task and shouldn't be rushed. It'll be visible to everyone, it's gonna be around for a while, & it's a real pain to change.
A successful blog has an awesome name
A credible blog, recognised for providing valuable and interesting information, has to have a name that's going to shout-out to readers. A name that'll enhance your brand, your content, your product, your services.

Once you've chosen your blog name you have to register the matching domain name. It has to match, don't be tempted to settle for anything less than awesome. You'll get a free email address and a free Alpha SSL certificate with your domain name – branded, professional, and secure.
Questions to ask before you start
When choosing your blog name ask yourself...
What's my blog about, its focus? Most blog names give a clue about the content: politics, tattoos, cooking, fashion, tech...
Who's my target audience? Old, young, geeks, professionals, tattooists, hobbyists…
Should I build my brand around my blog name?
Should I brand myself; use my name and register it as the domain name? If you use your name online when contributing to forums and message boards, or posting regular comments on blogs, don't waste this recognition - it's priceless!
What's my tone of voice - jokey and lighthearted or serious and huffy? My tone? Leans towards sarcastic, but only occasionally ;)
Different styles for your blog name
It really depends on you and which way you see your blog going...
Quirkiness or made up words can work. Think Reddit, Squidoo, YouTube, Flickr. A creative name can be an excellent brand icon but you'll have to launch it; introduce and explain it to users.
A name with keywords that illustrate the subject. Blogs with subject-specific names do well in searches; found even if users don't yet know your blog name.
Your personal name plus your choice of extension. As mentioned before, this is excellent if you already have online visibility.
Whatever name you choose, make it memorable, unique, and descriptive. Avoid complicated names - K.I.S.S. – yes I'm talking to you, stupid! It has to be catchy and easy to say. Phone a friend and try it out, do they get what you're saying? Does it pass the billboard test, i.e., is it readable at a glance?
If people are talking about your blog name, it's the best marketing in the world. Choose a name that creates a buzz!
Does your blog name work?
Test it...
What image does it convey?
Is it easy to remember?
Will people be able to spell it after hearing over the phone? Numbers and punctuation often confuse, so avoid.
If you think your blog may diversify, is your choice of name too restrictive?
Think before you ink!
Before you register your blog name as a domain name, ask yourself how much you're prepared or able to spend. It's more than likely that you'll want to keep it for a long time, if not forever. If you choose badly, you can let the domain name expire, but you'll have to promote your name all over again. Plus you'll have to setup redirects so you don't lose traffic or link juice.
Imagine you're choosing a tattoo; it's going to be around for a long time - removal is painful.
Choosing the extension - the bit after the dot
There's .COM, and if you can get it for your name, why not? But what does it say? It's not very exciting or descriptive. Getting your blog to stand out in the .COM crowd is going to take time and effort.
The new domain extensions bring more choice and it's still possible to grab a short and memorable domain name. You're looking for awesome right? Visualise how it's going to work in your URL and on your business card.
funkyveganrecipes.com    vs    funkyvegan.recipes
No contest! Using a new domain shows that you embrace new technology, you're an innovator, you're not afraid to try new things.
Country & language - If your blog is in a language other than English, register a country code extension (ccTLD). Writing in German? Register .DE! You'll target your audience. Big page ranking benefits too, as local search engines will send traffic to your site.
Using your own alphabet - Included with the new extensions was the introduction of domains in non-Latin script. Internationalised domain names (IDNs) mean you can register names in Arabic, Cyrillic, Chinese, and more; e.g. .みんな (Japanese for 'everyone').
Topic specific – What are you going to be blogging about - photography, recipes, design, shoes, tattoos? You can now register industry-specific domain extensions. Your profession, your passion, or your specialised subject - virtually anything.
Blogging about your city? London, NYC, Berlin, or Amsterdam, and more – you can now register newsfrom.amsterdam.
Chosen? Now register your domain name
Open an account on the EuroDNS homepage by clicking on MY ACCOUNT, top right. Create your login, password, and contact details.

Click DOMAIN NAMES in the top menu, then DOMAIN NAME SEARCH in the sub menu. Enter the domain name you'd like to search for, along with the extension and click SEARCH.

Yay, it's available! Underneath there'll be a list of other extensions you could register. In this example the .COM is taken but the .NET and others are available.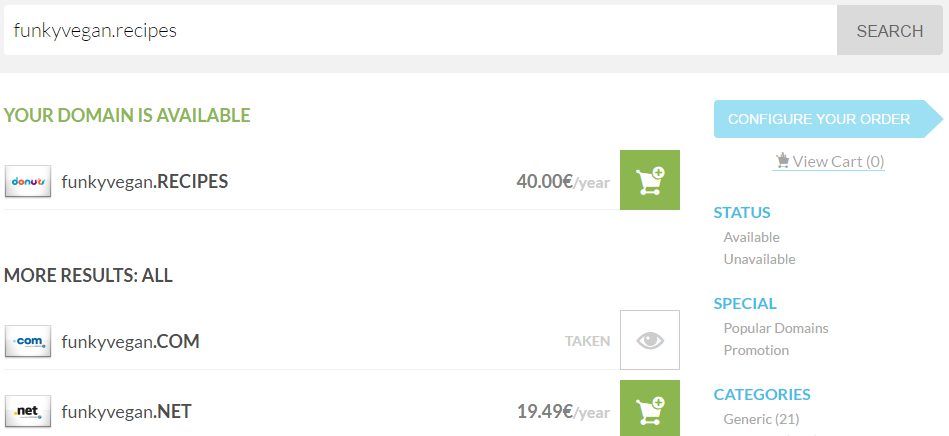 Click the green shopping cart, then CONFIGURE YOUR ORDER. On this page you can enable domain privacy. If you want to keep your contact details hidden from fraudsters and identity thieves, I'd recommend it.

The following page, Additional Services, is where you can sign up for our Unlimited Web Hosting. Plus can claim your free Alpha SSL certificate. If you'd like to chat about your domain name, what extension to choose, or any of our additional services, please get in touch with our team.
That's it, you're ready to start blogging. Get writing, be awesome and good luck!