Digitizing pride with .GAY in the age of COVID-19

When COVID-19 hit, .gay shifted their launch plans to prioritize LGBTQ community members and organizations working to make a difference and foster digital Pride. As the health crisis continues to affect life worldwide, .GAY continues to evolve as a community resource. .GAY domains launch to the world on September 16.
COVID-19 accelerates the digitization of human interaction
Ever since the internet revolutionized our global communications, life has been lived more and more online. But few single events in recent memory have had such an accelerating impact on the digitization of human interaction as the COVID-19 crisis.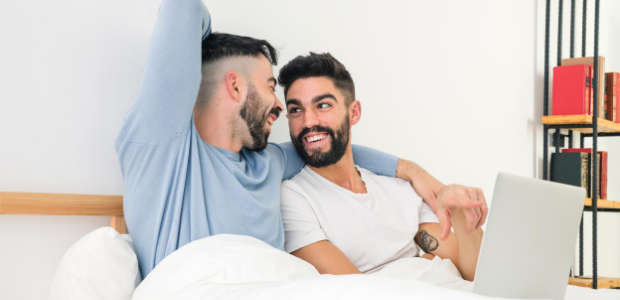 With people around the world isolating in their homes to stem infection rates, digital communication technologies have to facilitate a huge range of activities that are no longer possible to perform in-person. Zoom meetings, FaceTime, Twitch livestreams, and Instagram slideshows are among the tools being used to bridge the gap between the necessity of social distancing and the human need for community and connection.
COVID-19's impact on the LGBTQ community & pride celebrations
Due to their systemic marginalization by mainstream society, people who are LGBTQ (lesbian, gay, bisexual, transgender, queer) and/or BIPOC (Black, Indigenous, People of Color) exist at an intersection of compounding conditions that make the strain of COVID-19 all the more difficult to bear.
The HIV/AIDS crisis of the 80s and 90s proved that the LGBTQ community will go above and beyond to take care of each other, and that same spirit animated the community's response to COVID-19.
As the pandemic stretched into April and May, the LGBTQ community showed great leadership in canceling meticulously planned Pride events. 2020 was the 50th anniversary of the first ever Pride march — the Christopher Street Liberation Day march of 1970 in New York City. (This demonstration was itself the one-year commemoration of the 1969 Stonewall Rebellion, the riot against anti-LGBTQ police brutality that catalyzed widespread visibility and momentum for the LGBTQ civil rights movement.)
While it was heartbreaking to cancel these landmark celebrations, community members quickly turned their attention and effort to organizing, activism, fundraising, and other forms of mutual aid.
.GAY as a community resource
As the pandemic spread, the May 2020 launch plans for the .gay domain were pushed back to September 16, and the .gay registry pivoted their attention to facilitate new ways to keep Pride alive in the digital age of COVID-19.
The .gay registry, Top Level Design, already had groundbreaking plans in place to support LGBTQ communities via .gay's launch and ongoing sales. The registry is donating 20% of new .gay registration revenue to LGBTQ nonprofit organizations, beginning with GLAAD and CenterLink. In April, .gay donated a total of $34,400. The registry also has a unique anti-hate policy that will allow it to respond and take down any anti-LGBTQ content on .gay.
But the registry was aware that during the pandemic, LGBTQ visibility, community connection, and accessibility of health information would be more important than ever. As Pride festivals and parades were canceled and community events were postponed all over the world, and as LGBTQ centers were closing for safety, the registry sought to offer .gay as a community resource for fostering digital Pride.
Partnering with gay icon George Takei of the original Star Trek TV series, .gay offered a limited number of domain names for early activation to LGBTQ organizations, community groups, individuals, and small businesses looking for new ways to serve their communities online.
These are some of the sites that have contributed to the wellbeing of their communities during COVID-19 by fostering digital Pride and sharing important resources.
The Delta Foundation, an LGBTQ community center in Pittsburgh, PA, set up Pittsburgh.gay to provide comprehensive information for LGBTQ people facing challenges caused by COVID-19.
"This page is intended as a hub of resources and information for community members seeking help and for those looking to volunteer or donate," says Delta Foundation on the site. "We've included City of Pittsburgh and Allegheny County resources as well as grassroots campaigns and national resources."
The site's extensive catalog of resources includes categories like housing, domestic violence, food security, mental health, and more. For those in a position to help others, volunteer opportunities include community food banks, senior care, face masks, and fundraising for a general relief fund.
Salam literally means "peace," but it's used as a greeting in Azerbaijan, where LGBTQ rights face many challenges. In 2016, the ILGA ranked Azerbaijan as the worst place (49 out of 49) in Europe to be LGBTQ, citing "a near total absence of legal protection" for LGBTQ individuals.
The website Gay.az provides news, information, and cultural reporting for LGBTQ people in Azerbeijan, and they are proudly adopting the domain Salam.gay to facilitate their important mission.
In partnership with Atari (who are developing their own site at Atari.gay), Qutie is an app "for LGBTQ people looking for relationships, friendships, and meaningful connections."
"Most apps focus solely on lesbian women or gay men leaving out the rest of the community," says the Qutie team on the site. "While existing apps have answered the hookup-oriented market, they've failed to provide a space for relationship-oriented users. Hookups these days are easy to come by. That's why we set out to provide something more."
This groundbreaking app offers an important digital space for people across the full spectrum of LGBTQ sexual orientations and gender identities to safely connect, get to know each other, and find the relationships they are searching for.
Gamers for LGBTQIA+ Youth is a project of Gamers for Children's Health, which was founded in 2017 as a small fundraising team to help kids and teens undergoing life-threatening diseases.
GamersFor.gay is a special site dedicated to raising money to benefit The Trevor Project! With their fundraising endeavor on the .gay platform, Gamers for LGBTQIA+ Youth hopes to play a role in saving lives by way of TrevorLifeline and TrevorText (which offer free and confidential counseling for LGBTQ youth by either phone call or text message) as well as other vital community services.
Queer.Ulm.gay is a portal for LGBTQ community groups and organizations in the German city of Ulm. The site offers links and a combined calendar of events and meetings for organizations catering to students, women, youth, spirituality, and community health needs.
Pride 2020: A #BigGayThankYou to LGBTQ community centers
In addition to the registry's commitment to donate 20% of new registration revenue to GLAAD and CenterLink, .gay also used the power of social media to show gratitude for crucial LGBTQ community centers during Pride.
.gay gave a #BigGayThankYou to the staff, volunteers, donors, and board members of CenterLink's Member Centers. CenterLink is an umbrella organization that works to support and develop LGBTQ community centers. Every day throughout the month, .gay used their social media channels to give special recognition to a new CenterLink affiliate. The campaign served to highlight the diverse communities working together to ensure that LGBTQ people everywhere can thrive.
The pandemic inspired community spirit between .gay's beneficiaries as well. GLAAD, which promotes positive media representation of LGBTQ people, held an unprecedented star-studded digital fundraiser — featuring Barbra Streisand, Adam Lambert, and Kesha — to raise money for CenterLink. Together in Pride: You Are Not Alone raised over $225,000 in April, filling a critical fundraising need as the pandemic situation became increasingly urgent.

Digital Pride for All
With .gay domains launching to the world on September 16, you have the chance to create your own slice of digital Pride on the internet. As the health crisis continues to affect life worldwide, and digital accessibility continues to be more important than ever before, .gay provides an inclusive and easy-to-identify home for LGBTQ content online. EuroDNS is proud to offer .gay domains, and you can get your own when .gay launches to the world on 16 September.