Don't start a domain name transfer without reading this!

To protect your domain name from hijackers, a domain name transfer takes more than just the click of a button. There are essential things you have to do to make the transfer successful. Here's your check list for a trouble-free transfer...
5 steps to a successful domain name transfer
Looking to transfer your domain name to EuroDNS? I'll explain the transfer procedure later but first, you need to take the following five steps, only then will your transfer go ahead.
If your domain name is protected with a registry lock, you'll need to unlock it before the transfer. This should be done by your current registrar.
Domain privacy/WHOIS privacy will have to be disabled so both registrars can view your contact details.
To avoid downtime, transfer your domain name using the existing name servers. Alternatively, name server updates should be done before transfer. Performed during transfer may cause it to fail.
You'll need an EPP auth-code/transfer key from your current registrar which you need to give to your new registrar. Note: this is not applicable to some ccTLDs. For gTLDs the code is required. Request the code as soon as you decide you want to transfer so you're ready to go (some registries take longer than others and there're even ones still using snail mail!). It's a 6-16 character code that brings an extra level of security, protecting you against domain name hijacking. Note that auth-codes have a use-by date.
Additional information is required for some ccTLDs, such as company registration number, trademark number, etc.

How long does it take to transfer your domain
For most domain extensions, transfers take between 5 & 7 days from the time you authorise the transfer. But the procedure and time can vary for some extensions. Country code domains (ccTLDs) may ask for company registration numbers and trademark numbers. To avoid delay, check with your registrar before initiating a transfer.
How to transfer your domain name to EuroDNS
Now you're ready to transfer your domain name.

Log in to your EuroDNS account and in the blue menu click DOMAIN NAMES,
Then underneath click TRANSFER. Choose - Transfer from another registrar.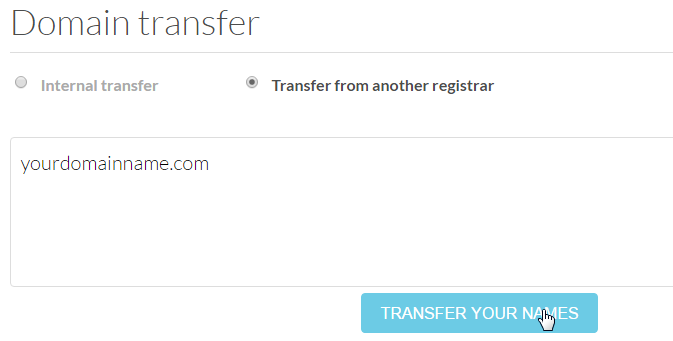 3. Enter your domain names in the white box and TRANSFER YOUR NAMES.
4. Select CHANGE SETTINGS and select the contact and name servers to support your domain name. You'll also need to provide extra information: auth-code, company registration number, any relevant documents…
5. Click NEXT STEP. Additional services can be added depending on your requirements.
6. Click on REVIEW AND PAYMENT and choose your invoice profile and payment method. Accept our T&Cs, then place your order.

Woo hoo, you're done!

Your domain name at EuroDNS comes with extras
Here's what you'll get when you transfer to us. Besides wonderful customer care, industry experts, and a multilingual team, you'll also get the following extras with every domain name…
Plus domain privacy so your contact details aren't splashed all over the Internet. Two-step verification is a feature that protects you account against unauthorised.
If you have any questions about transferring your domain name, please contact our team and they'll talk you through the whole process.