EuroDNS affiliate programme - November news
Members of the EuroDNS affiliate programme, look & learn! Lots of tips on targeting your audience and boosting your conversion rate. Plus, you're invited to showcase your website and double your commission for a month. If you're not an affiliate, why not? We've got 750+ incentives - easy money - all you need is a website.
Boost conversion with targeted banners
Target your audience! Yep, pretty obvious - but many don't.
Who's your audience? What's your niche market?
Blogging about photography? Offer your audience .PHOTO, .PHOTOGRAPHY, .PICS, and .PHOTOS.
If you run an ecommerce site, obviously you've already got SSL protection, but has your audience? Make an SSL banner!
Travel website? Promote new domain extensions and ccTLDs such as .TRAVEL, .BAYERN, .HOLIDAY, .LONDON, .FR, .DE.

You can create banners for all of our 750+ domain extensions, plus the products included in our affiliate programme. Then, you can tailor them to your audience and your website. Here's how...
In the green box you'll find your name, click on the dropdown menu and choose Banner Ads.
Under Banner Ads – Targeted Audience, you can then choose your extension and your banner size. C'mon, go crazy!
EuroDNS affiliate partners get to showcase their websites
In this new feature, we're going to be inviting affiliate partners to share their knowledge. They'll show us their websites and explain how they're using our banners and search box to earn commission. We'll also invite them to tell us how we can improve our programme, and what enhancements they'd like.
Domainr in the spotlight
First up is Domainr, a EuroDNS affiliate partner since 2008. Take a look…
Hi, thank you for taking the time out for a chat. I'd like to start by asking how many affiliate programmes you use?
As many as we can find! Our site is like Orbitz or Kayak for flights — search and discover on our site, and choose from a variety of partners to price-shop and purchase.
And the focus of your website, who are you targeting?
It's an instant domain search engine for the entire TLD namespace — all generic TLDs, country code domains (ccTLDs), third-level, and beyond. It's very popular with entrepreneurs, developers, and side-project tinkerers.
What made you choose EuroDNS?
When we first built the service and looked for registrar partners, EuroDNS stood out due to its extensive ccTLD support. EuroDNS supports hundreds of country-code domains (and now, new extensions), and one of our product pillars is to give our site's visitors comprehensive purchase options for a given TLD.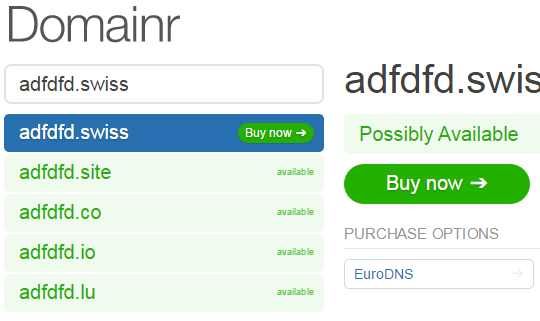 Your affiliate account was created in 2008, but was inactive for some time. When did you reactivate and why?
We reactivated our affiliate integration after the EuroDNS affiliate programme was re-booted, with new resources and development.
So, where do your users and traffic come from?
Roughly 40% of our traffic is from the US, and about 30% is from Europe.
Would you explain to our readers how you use our programme?
Our affiliate code is embedded in our site's "Buy" links, so that visitors can easily click through to EuroDNS to purchase domains they find on our site. As a source of highly qualified leads, we get compensated for our traffic via per-sale EuroDNS commissions.
And are you happy so far with our programme?
Yes. Though as Daniel and his team are aware, we're looking forward to some reporting enhancements.
More details please...
Is there anything else you'd like us to add or change?
Finer-grained reporting would be great, e.g. including the TLD or product associated with each conversion. And, a direct-to-shopping cart landing page, which in our experience converts better than search result landing pages.
Valuable input, thank you - your requests are noted.
In your experience, is the affiliate business picking up or slowing down? Why do you think that is?
I have no idea re: the larger affiliate space — it's a perfect model for our site, which is why we used it. For us, it aligns our compensation with the performance and effectiveness of our site.
What are your plans for the future?
We've been focusing on building out the API platform that powers our site, in order to offer it to other partners in the space — e.g. domain registries, registrars and resellers.
Thanks for the interview, and for the valuable information you've shared with our affiliate partners. Anything you'd like to add?
Thanks for reaching out to us!
Showcase your website & double your commission for a month!
Think you're doing a good job? Show us and you'll double your commission for a month!
We'll put you and your website in the spotlight. You can tell our readers how you're promoting 750+ domain extensions; what works and what doesn't work. How you introduced the extra products that we now offer in our affiliate programme such as SSL certificates and mailboxes. Plus, what you'd like to see in the future.
Not only will you get a month of doubled commission, you'll also showcase your affiliate programme and increase your visibility. Send us an email at affiliates@eurodns.com, if you'd like to take part.
Sign up now & start earning now!
Our affiliate programme offers the highest commission in the domain name industry, up to 30%! That's commission earned when you promote and sell our domain extensions and products. Interested in becoming a EuroDNS affiliate? We've got a huge library of banners that you can choose from, so you can offer 750+ domain extensions, SSL certificates, Linux web hosting, and professional mailboxes.
Getting started is simple, sign up and fill in your details. If you have any questions about our affiliate programme, please contact affiliates@eurodns.com and we can chat. Plus you can subscribe to the EuroDNS Affiliate Newsletter for all the latest programme updates.
As you'll be joining the domain industry, you might also like to sign up for our EuroDNS newsletter; it's packed with domain news.