How doctors and other professionals are leveraging TikTok for business growth

Are you a professional that's not sure if TikTok is the right platform for your business? In this article we discuss why TikTok is an excellent way to grow your business as a professional, whether you're a Doctor or a Lawyer, there are dozens of ways you can leverage this booming new platform.
Ever since TikTok's boom in 2020, the app's popularity has risen enough to welcome all age ranges.
With its growth, the channel has also brought a way for professionals of all fields to connect with their audiences with fun and engaging videos. Proof of that are the business categories within TikTok, which include TikTok for doctors, or simply "medical TikTok."
If users want to see specific content related to a doctor's practice – be it funny memes or quick tutorials – they just need to look for these categories within the app. And the more videos they watch from a specific category, the faster the algorithm will boost that type of content.
In this article, we'll go over how doctors and other professionals can leverage TikTok to grow both their authority and client base. In order for you to make the most of TikTok for doctors (or TikTok for professionals in general), let's take a look at why the app makes it easy for professionals to succeed.
Why You Don't Need a Huge Following to Succeed on TikTok
If you're still on the fence about getting started on TikTok for doctors or TikTok for professionals, we have good news: you don't need to build a large follower base before you can make an impact.
In fact, TikTok owes its highly addictive features to its algorithm instead of users' following counts. This is a big difference when you compare it to alternative social media platforms.
As soon as users upload a new video, TikTok will put that video onto certain users' "For You pages" for a short while. A "For You Page" is the first-page users land once they open the app, which features videos curated for their tastes.
If the first few seconds of the video interest the user (meaning they don't immediately scroll past it), that means they've found it relevant.
What does that mean for you?
Whilst you aren't necessarily looking to get famous on the platform, going viral on TikTok for professionals has a lot more to do with the quality of your content.
In other words, you should hook your audience in the first 3 seconds of your videos and keep them watching until the end. This way, TikTok's algorithm will only show your videos to users who are genuinely interested in that type of content. An increase in following, shares, and likes will typically follow.
Here are some actionable TikTok tips to hook your audience from the start and hold their interest until the end.
Benefits of Creating Content on TikTok
As a professional, there are multiple benefits when it comes to creating content on TikTok, here are a couple of them.
Drive Exposure for Your Practice
Whether you're a lawyer, doctor, or any other type of professional, we can all benefit from some more exposure for our business.
By creating content on platforms like TikTok, you are able to position yourself as an industry leader, and naturally, this will drive more customers to you when they require your services.
While this benefit may not be immediately apparent you must remember that every time you release a piece of content you are establishing yourself as a leader in your space. The audience that is consuming your content begins to grow loyalty towards you and your content, and if they happen to need your services down the line, you'll be the first to hear it.
Create Another Income Stream
By creating content and building an audience in your niche, you can create another income stream that is more hands-off when you compare it to professions in the medical or law fields.
One great example of this is creators that sell merchandise. There are plenty of services out there that will create custom merchandise on your behalf, and ship it for you so that you don't have to deal with the headache of logistics. This can become a nice income stream on top of your main 9-5 job.
Do Your Trend Research
If you incorporate what's popular, you'll stand a better chance of reaching a larger audience. That's because when people engage with a TikTok trend, they'll usually watch countless videos related to the same trend.
Still, remind yourself that people enjoy seeing each creator's own twist in a similar scenario. You may be replicating a trend, but there should still be a unique element that makes the content undeniably yours.
Here's an example.
You might be familiar with the trend known as "that weird guy dancing." It's a video effect that places a funny dancing character in your video.
Doctors and nurses from medical TikTok use this trend to portray unruly patients in a funny way. Here's an example from nurse John, who has 2.6 million followers. Although his videos don't depict real work scenarios, they're still entertaining and make the creator likeable.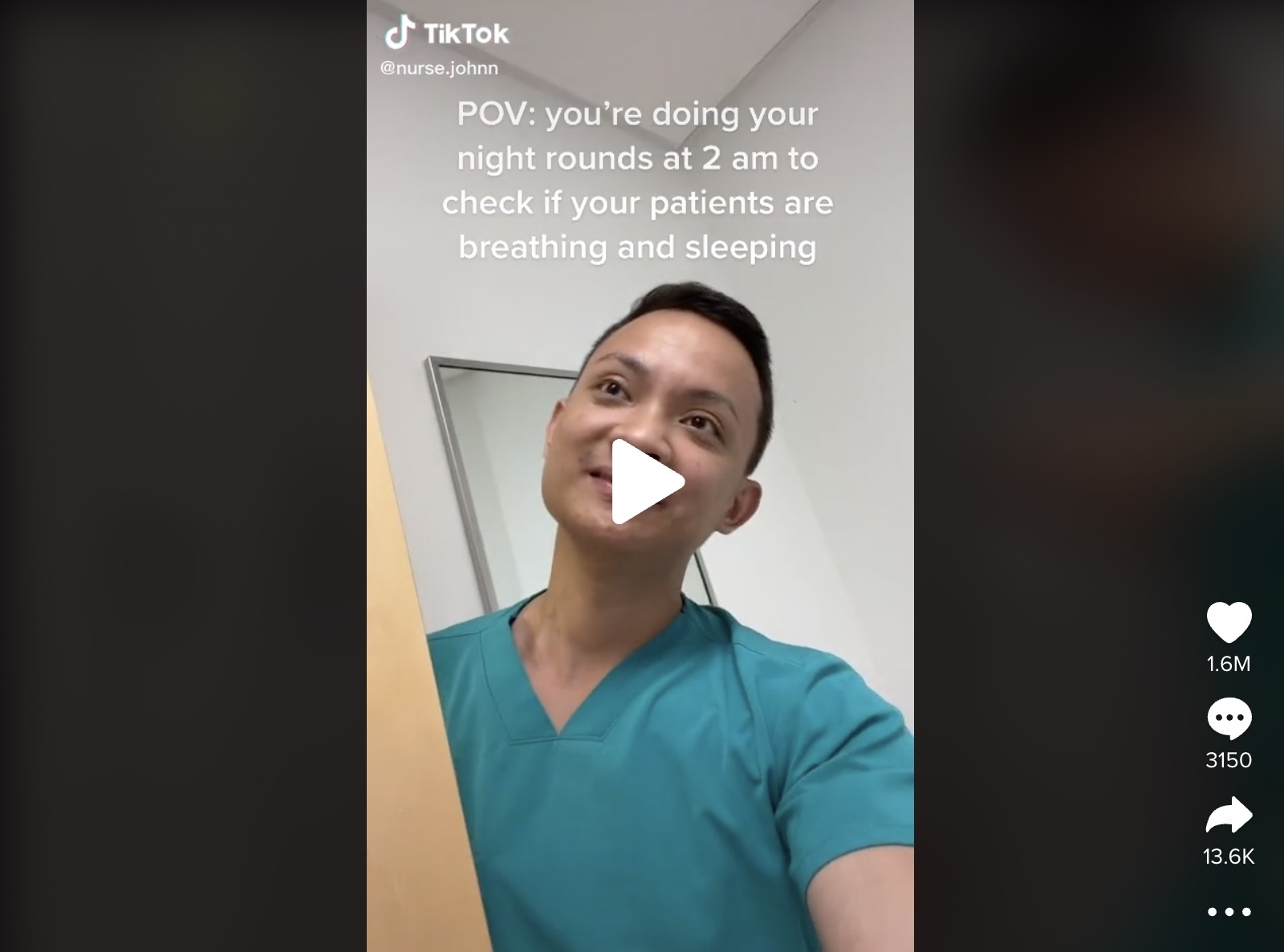 @nurse.johnn I mean if you want to do some zumba Tina I'm down girl since you ain't sleeping let me find a way to knock you out till sunrise girl. Hit it, left right, left right. #nursejohnn#nursesoftiktok#nurselife#nurse#nurses
#nursehumor#nursing#nursingstudent#nursingschool
#nursetiktok#nurseproblems#medicaltiktok#medicalhumor
#hospitaltiktoks#hospitallife#healthcareworker
#healthcarehumor#cnalife#cna#cnahumor#travelnurse
#ernurse#foryou#fyp#fypシ#dementia#dementiaawareness♬ Dancing With Myself_WHENEVER WHEREVER Tutorial - NBC
Exploring your "Trending" and "For You" pages will give you an idea of popular trends you can implement into fictional work scenarios.
You can also take inspiration from content formats that are popular among creators in other niches, such as fitness influencers, and apply these content formats to your own niche whether that be healthcare, law, or anything else.
Create "Day In the Life" Mini Vlogs
TikTok users love mini vlogs. They're a bite-sized way for professionals to showcase their daily practice and get personal with their viewers. From waking up to getting ready and starting work, they give a quick behind-the-scenes view of how someone does their job.
What's more, filming mini vlogs as a professional may increase viewer trust. After all, you're trusting them enough to give them a peek into your daily life. They're likely to reciprocate with engagement.
Your videos can be an inspiration for viewers who wish to go down the same path. Take a look at @nehdee's take of a day in the life of a doctor.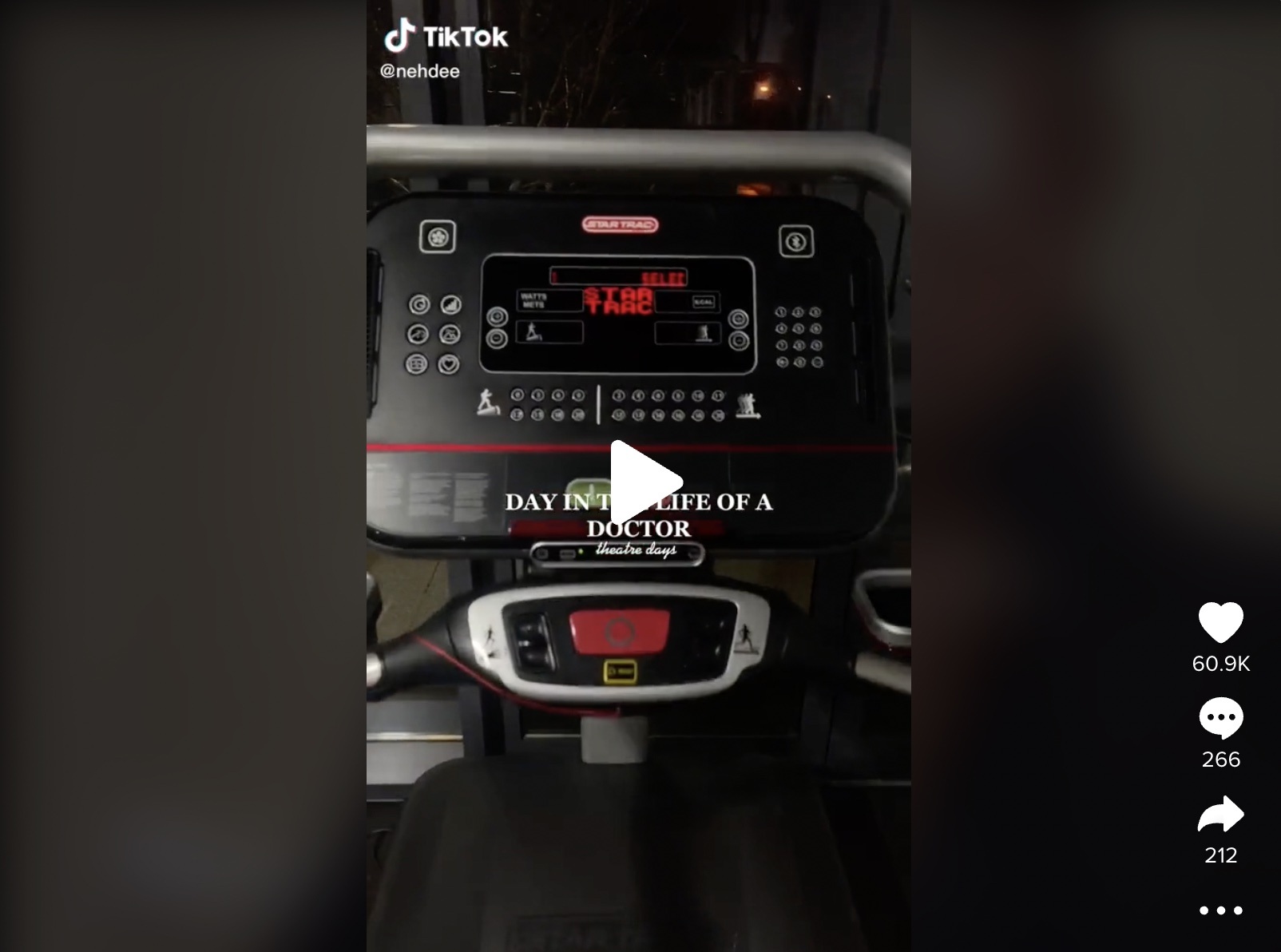 @nehdee long time no mini vlog 👩🏾‍⚕️ #fyp#dayinthelife#medicaltiktok <#medicalstudent
#greysanatomy#womenoftiktok#foryoupage
#productivity♬ Finesse - Pheelz & BNXN
Add Business-Related Hashtags to Your Captions
Business-related hashtags are the easiest way for viewers to find the content they're looking for. The habit of adding hashtags to your captions can help you reach your ideal audience.
If you're in medical TikTok, you know the hashtag #medicaltiktok has1.9B views for a reason: it's the first one the target audience goes to. Depending on the type of content you create, hashtags like #medicalhumour could set you up for success.
As for the number of hashtags on your videos, you won't need more than 5 of them. As long as the hashtags get traffic and succinctly describe what you do, less is more. Besides, cutting down your number of hashtags will allow for a more descriptive caption.
Source
Create Quick Tutorials
Tutorials are a great way to display your expertise while giving your audience quick, useful tips. Since TikTok videos are so practical, users can save the videos and go over your tips on-the-go.
Most creators have found that pairing short and step-by-step tutorials with captions makes the content even more digestible. TikTok's voiceover feature, be it in your own voice or fun text-to-speech generated voices, is perfect for including detailed explanations.
Most folks from the fitness TikTok realm build their online presences around comprehensive workout tutorials. Take a look at how the following fitness creator gives a rundown on her squat form.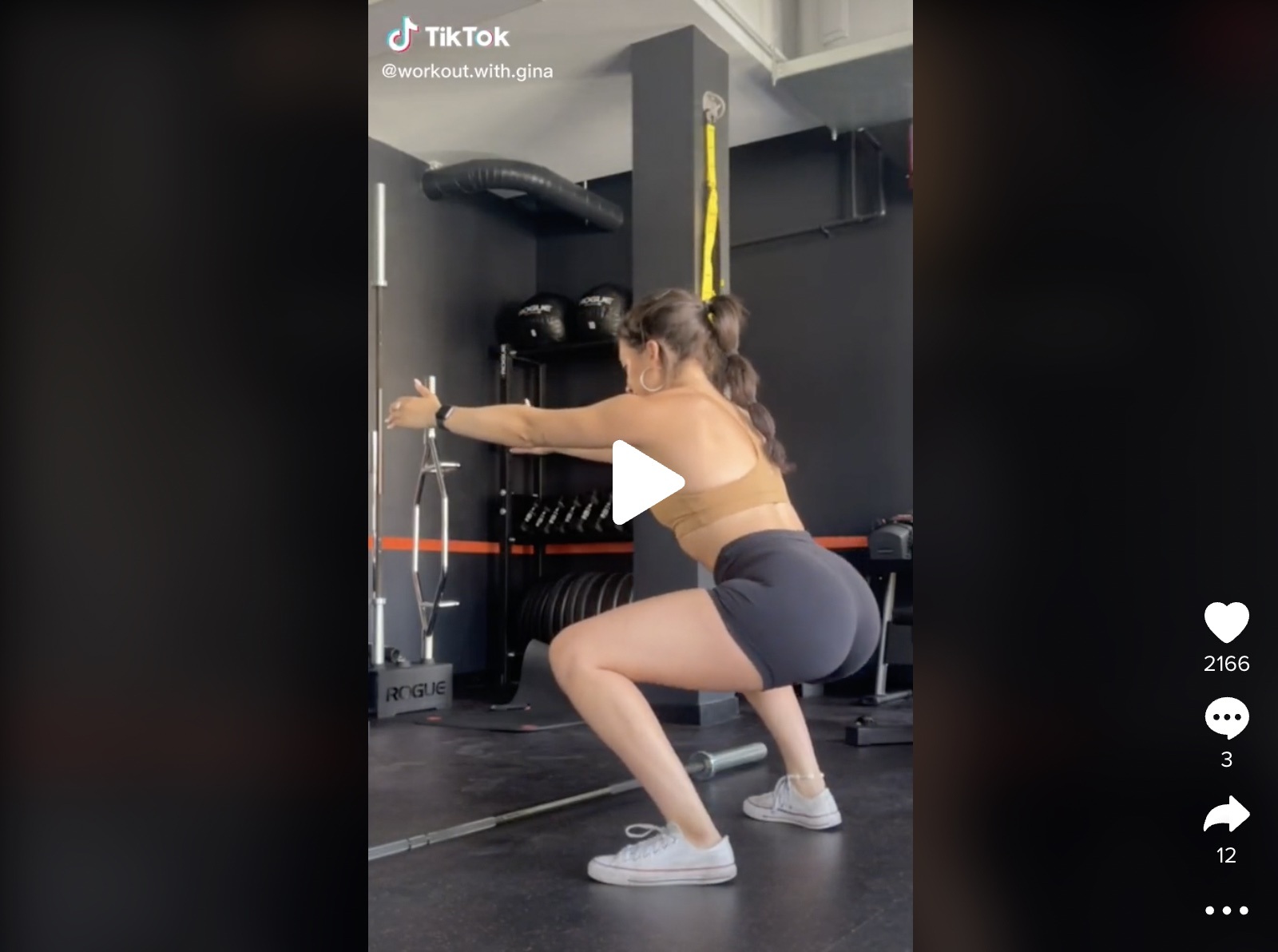 @workout.with.gina I do it 5 times before i squat #fyp#fittips#foryou#fithack♬ original sound - sped up songs
Use Noticeable Thumbnail Images
An eye-catching thumbnail image can be the difference between a TikTok video that goes unnoticed and one that gets clicked.
Just like on YouTube, Thumbnails on the cover page of your video can help users understand the content prior to clicking on it. When viewers are scrolling through hashtags and looking for the perfect video to watch, an enticing thumbnail can help them make that decision faster.
Of course, that doesn't mean you'll use clickbait to draw users' attention, only to fail in delivering the promise. In fact, eye-catching thumbnails can be simple. Take a look at the following Thumbnail by Mama Doctor Jones:
Source
Aspiring or practitioner ObGyns would relate to the Thumbnail above. The reason is simple: they can see themselves on it. The title "Day in the life of an ObGyn" complements the image, giving scrollers a complete picture before they even open the video.
Wrapping Up
Professionals are always looking to increase their following, fit into a narrower niche, or simply share their practice with the world. TikTok is the perfect channel to do all of the above.
As a final handy tip, you can repurpose the content of your TikToks into YouTube and Instagram. With YouTube Shorts and Instagram Reels emulating TikTok's video format, it's easy for time-strapped professionals to maintain an all-around online presence.
Today, TikTok is as much a marketing channel as it's a source of education and entertainment. If you can follow today's tips to provide education in an entertaining way, you can reach an ideal audience that will enjoy your content. That's the sweet spot.
Author Bio

Kyle is the co-founder of Collabstr, the world's largest public marketplace for finding and hiring influencers. Collabstr helps 10,000+ businesses purchase high-quality content from influencers on-demand.