Online marketing ideas to prepare for Valentine's day - 2021

At this time of the year, businesses are usually in the middle of preparing for Valentine's day. But this year couldn't be more different, with COVID-19 restrictions being put in place in most countries. But we know how to help you to make the most out of a remote celebration.
Valentine's day is approaching and it surely won't be a traditional one. For a lot of businesses such as florists or restaurants, this holiday is the most important day of the year. As a lot of businesses worldwide are closed down due to the ongoing pandemic, we've looked into how you can adjust your online strategy for the big day to achieve maximum sales.
Is Valentine's Day still popular?
While this holiday does not always equate to gift-giving, most people still consider it important to find for their significant other the perfect gift. According to Finder (2020), 67% of Americans do purchase a gift on this special day, most of them being men.
The average money spent differs depending on the generation, Generation X (40-55 years old), spending over twice the amount that Millennials dedicate to this day (Compare Cards, 2020).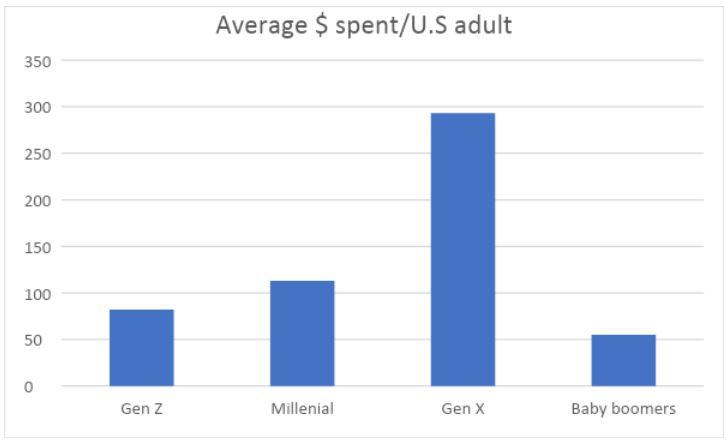 With the development of e-commerce, more and more people do their Valentine's day shopping online. An estimated 32% of U.S shoppers have bought gifts online in 2020 (National Retail Association) and the ongoing pandemic suggests that this number is likely to increase further in 2021.
Here are some of the ways you can boost your sales this holiday:
Prepare your online strategy
Your business is closed before or on Valentine's day? No worries, you can still depend on your online marketing strategy to make the most out of this special day.
Plan your promo in advance
The special day may be on February 14th, but your customers will be looking for the perfect gift days, even weeks before the actual date. You should keep this in mind when planning your marketing campaign.
Prepare your website with your promotions before the date, even up to two weeks before, to give time to your customers to order the gift for their better half.
Email
Communicate with your customer base about your promotions and special offers by setting up an email campaign.
Don't hesitate to do something extra-nice for your clients, such as offering delivery fees for this special occasion, or offering a discount for future purchases.
User-generated content
To establish a stronger bond with your community, take advantage of Valentine's day to engage with your followers on social media.
Why not organising an Instagram competition to win a special prize in exchange for your subscribers liking one of your pictures and sharing it with their friends? Or ask your fans to share pictures of them and one of your products, also known as "user-generated content"? A number of brands such as Calvin Klein do it successfully, with associated hashtag #mycalvins.
That's a very effective way to engage with your fans and gain some new-found attention.
Online boutique
Your physical shop being closed, you have to rely 100% on your online boutique.
We recommend you make it as user-friendly as possible. Customers are most likely to be in a rush to find the perfect gift for their partner, so their search has to be as straightforward and easy as possible.
Make sure your website is easy to navigate, with functioning filters and search box. Don't hesitate to also create new categories specifically for Valentine's day to help visitors find what they're looking for.
Make sure the images and product descriptions are optimal. Lack of information is frustrating for online customers, especially when it comes to gifts. They don't want to have to return the item because it came in the wrong size or color. So make sure your descriptions are thorough.
Figure out your delivery strategy
This year, Valentine's day falls on a Sunday. If your business is affected by this celebration on the actual day (restaurants, florists), you will have to anticipate even more than on a weekday and make sure that you have enough personnel to prepare all your orders and deliver them on the Sunday.
Widen your target
Don't make the mistake to think that this day is only about lovers, or you'll miss out on a lot of potential deals.
It's getting more and more popular for businesses to extend their offer Don't hesitate to extend the special day to:
Single people - Who said you have to be in a romantic relationship to enjoy Valentine's day? Younger generations in particular like to treat themselves with a bit of self-love and get themselves something special to take care of themselves.
Friends – have you ever heard of Galentine's day? Originating from the popular TV show "Parks and Recreation", this day is all about girlfriends celebrating their friendship on February 13th
Families - A number of families like to spend some quality time together on February 14th. This year, it will be the case even more than usual due to the ongoing pandemic and the fact that the day happens to be a Sunday.
Pets! Lots of people like to treat their pet with a special costume or candy.
Last but not least, don't forget the anti-valentines, those who hate this day so much that they love sarcastic gifts that make fun of the commercial and cheesy aspect of the day.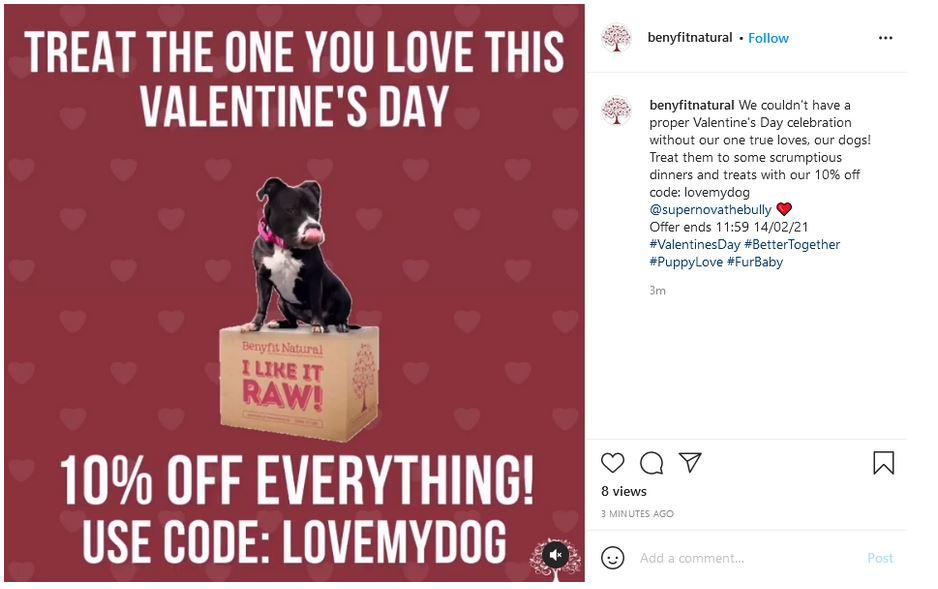 By widening your target and adapting your deals to a wide variety of audiences, you'll multiply traffic and sales.

Conclusion
Valentine's day is going to be a whole new experience this year! Think about what your target audience wants and adapt your online marketing strategy accordingly. And remember that this special day is not reserved for lovers anymore, so use different communication channels to tap into different emotions and connect with all kinds of customers.