.SHOP domain names are a top choice for e-commerce stores

Finding just the right domain name, one that clearly articulates who your brand is and helps drive traffic to your e-commerce store, can be a difficult task. But recent numbers show .SHOP domain names are doing just that. See how registering a .SHOP domain can help your e-commerce site connect with shoppers around the world.
Worldwide retail e-commerce sales reached $2.290 trillion in 2017 but that number is nothing compared to what it will be in just a few years. With a projected sales growth of 17% by the year 2022, e-commerce businesses just keep getting bigger, the competition more fierce.
These days, it's no surprise to anyone that if you want your e-commerce business to succeed, you need to come up with marketing strategies that help you stand out against growing competition. If you aren't strategising and making use of the best ways to attract visitors, don't expect your e-commerce business to rise to the top. Luckily, we have a solution that is sure to help.
Say hello to .SHOP, a domain extension designed exclusively for e-commerce stores. The .SHOP extension provides e-commerce businesses an ideal marketing tool. It's short, intuitive, memorable, and tells customers exactly what they can expect when they click on your site. And, perhaps best of all, with so few strong .COM domain name options available, the .SHOP domain space (introduced to the market in September 2016) offers registrants more possibility of finding just the right domain name, one that clearly articulates your brand name.
Hiro Tsukahara, CEO of GMO Registry, the registry for .SHOP, recently shared his thoughts with us about what makes .SHOP especially unique. "We believe .SHOP is the perfect domain name for all kinds of shops, whether online and offline. What is unique about the word "shop" is that it is understood and recognised all over the world. Everywhere we travel, from Europe to Asia, we are finding that .SHOP really resonates with online consumers. This makes .SHOP a great choice for online businesses who may be expanding into cross-border e-commerce."
.SHOP domain names are globally recognised
Indeed, .SHOP is recognised worldwide, making it a great choice for e-commerce businesses looking to expand into new markets.
.SHOP domains have developed an extremely strong global reputation in a relatively short amount of time. Within its first two months of general availability, .SHOP hit a massive milestone with 100,000 registrations. But that's just a small piece of .SHOP's success story.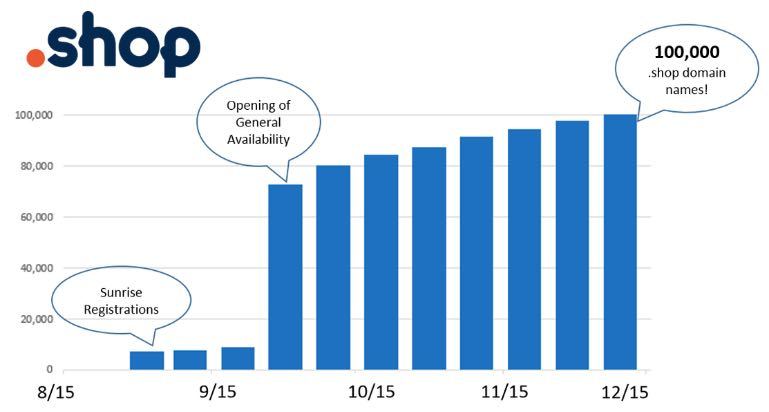 In late 2017, GMO Registry reported some very impressive first year numbers:

74.3% renewal rate
360,000 .SHOP registrations from 182 countries
Ranked 13 in registration volume among leading new gTLDs
.SHOP has proven to be especially popular in Europe where half of all .SHOP domain names have been registered. (Germany and the Netherlands lead the way with 23,000 and 11,000 registrations respectively.) Moreover, the .SHOP renewal rate in Europe has hit 81 percent, closely followed by South America (76 percent) and North America (74 percent).
With first year numbers like these, there's no question about .SHOP's long term prospects. From sporting goods to cars, fashion to crypto, e-commerce businesses of all types are experiencing the benefits associated with a .SHOP domain.
.SHOP domain name promotion for resellers
For a limited time, EuroDNS is offering our reseller partners a .SHOP promotional discount!
To find out more about our .SHOP domain name promotion - which runs from July 2nd through August 31st - please contact your account manager: +352 263 725 250 or sales@eurodns.com. They'll be happy to get you started with all the marketing and communications resources you need to begin offering .SHOP to your customers!
Take advantage of our .SHOP domain name promo and help your customers jump on their e-commerce competition!