Trends on Instagram for 2023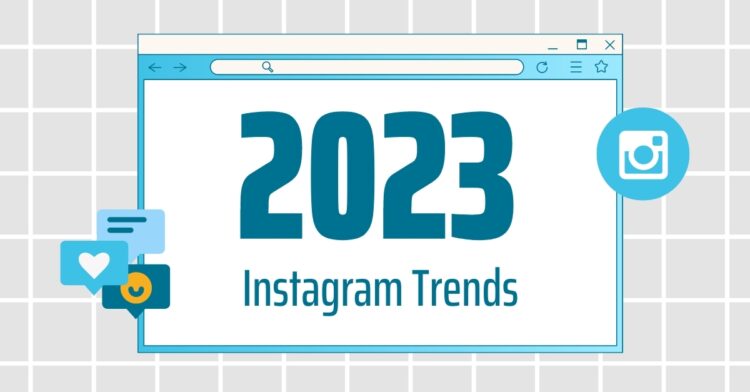 A new year is rolling around, and it is time to take stock and create new strategies. Instagram has been an influential platform for social media users, creators, and marketers in 2022. However, 2023 could give marketers and creators even more opportunities to benefit from Instagram. In this article, we shall highlight six trends on Instagram to which you should pay attention and set strategies to utilise them exhaustively.
Trends on Instagram for 2023
A new year is rolling around, and it is time to take stock and create new strategies. Instagram has been an influential platform for social media users, creators, and marketers in 2022. However, 2023 could give marketers and creators even more opportunities to benefit from Instagram.
In this article, we shall highlight six trends on Instagram to which you should pay attention and set strategies to utilise them exhaustively.
AR effects
The Augmented Reality (AR) market is expected to rise to $97 billion by 2028. This will be a massive jump from $6 billion in 2021. Social media platforms are taking advantage of this growth. Instagram introduced its Augmented Reality effects in 2017 and has continued to develop them.
You must have used or interacted with some augmented effects while on your browsing escapades on Instagram. For example, a popular AR effect on Instagram is the Fresh AR Prince filter. This AR filter was inspired by Will Smith's role in the iconic Fresh Prince of Bel-Air tv show.
Source
Using these AR filters at first was limited to specific people on Instagram, but now all Instagram users can use AR effects. This is why AR effects will be a big trend on Instagram in 2023.
AR brings a new level of content creation and interaction to the Instagram platform. Creators and marketers get the opportunity to be authentic and have fun while doing it.
Meta has taken it a step further and has created Spark AR Studio. The Spark AR Studio allows you to create different AR filters that you can use and make them public to let other people use them. This is a powerful tool for marketers as they can create brand AR effects that generate more brand interactions and user-generated content.
AR is at the centre stage of this evolution, with the world becoming increasingly virtual. Going into 2023, we expect to see more and more people learning and using the already-developed AR effects on Instagram.
Focus on content
Engaging content not only helps to improve your brand's SEO results, but it's also a great way to thrive on social media. While Instagram has many features and effects, content is still the platform's primary focus.
There is no thriving on Instagram without creating content. 90% of all Instagram users follow a business on the platform, and two in three people say that Instagram fosters brand interaction with its audience.
Going into 2023, content will be more significant as Instagram users want to interact and share more.
Here are the types of content that perform well on Instagram and will continue to do so into 2023.
User-generated content - content created by your brand enthusiasts.
Memes - Funny, quirky content
Behind-the-scenes content - Content that shows the production process and the team involved.
Short how-to tutorials - Explainer content that elaborates on how to use your product and services.
Influencer content - Brand content created by influencers
Inspirational content - Content that inspires people
The catch with Instagram content, though, is that the content has to have great quality and be authentic.
Going into 2023, the trend will require creators and marketers to balance creating quality and authentic content.
Freddysusa is a great example of how brands create quality, authentic content.
Source
Content also has other benefits for creators and businesses. It gets them more exposure through brand awareness and other marketing campaigns. Authentic and engaging content can help you attract more Instagram followers and generate leads.
Instagram's potential can only be effectively harnessed by focusing on content. As a result, content has been a major Instagram trend and will continue going into 2023.
Approachable influencers
When Instagram first came to market, celebrity influencers were all the buzz. But with time, brands realised that working with more relatable influencers generated more engagement and was more effective. So the influencer marketing trend moved from celebrities to micro-influencers.
Moving into 2023, you will see more brands partnering with relatable micro-influencers. An approachable influencer is not an A-list celebrity. They can just be the boy or girl next door with a voice on Instagram in a given niche. You choose to work with such influencers because they already have a voice, and people relate to the content they create.
Source
Influencers, such as the ones shown above, are very relatable. The image used is Instagram-worthy but also shows the quirkiness among couples.
In their caption, @bruisedpassports speaks to their target audience as friends who have known each other for a long time. This is what makes approachable influencers outstanding and better performing.
Going into 2023, remember that consumers want people who reflect their life. Therefore, be and work with more relatable and approachable content creators.
Boost to UGC
User-generated content (UGC) is an evergreen trend on Instagram. UGC is the content about your brand created by your customers. Such content is expected to grow as people are willing to share their experiences online, and as they do, they create content on products and services they use.
UGC is gold to a brand or marketer as it allows you to understand your customers' experiences. If the UGC is not pleasant, you can reach out, respond and improve on your offering.
If the UGC content is favourable, this is more like a recommendation. You should reach out to the creator and ask permission to post their content on your platform.
With UGC, you get valuable content you did not invest time and resources in creating, and the creator receives exposure on the brand's feed.
Source
Lush Cosmetics is among the brands that use UGC to interact with its audience.
In 2023, using UGC should feature in your brand's social media strategies heavily, as it serves you with three distinct advantages.
First, you get content created by an enthusiast of your brand. Second, UGC content serves as feedback from your audience and customers. Finally, it's an opportunity to show your customers you value them. You see them, and you hear them.
That is why UGC content is and will continue to be a hit trend on Instagram in 2023 and beyond.
Instagram reels to promote business
There is a rise in short-form video type of content thanks to TikTok. Every platform has its version, but for Instagram, it is Instagram Reels.
Meta will continue to rival TikTok by enhancing its Instagram Reels feature, so you want to take advantage of this and create more Reels content.
The Instagram Reels algorithm avails videos to viewers as per their interests; all the viewer has to do is scroll. This makes it a stress-free engagement with the viewer as they do not have to search or navigate through a myriad of content to find what they like. Instead, they just open the reel feed and scroll away.
You can also jump on the reel marketing trend. For example, there have been sounds, music, effects, and popular transitions. As a brand, you can use the trending features of the feed and insert a video of your product or service.
Nevertheless, you can create short-form, original, engaging content. And remember, Instagram rewards authenticity. Therefore, your content should be entertaining, informative, and authentic.
Here is an example from Yanko Design.
Source
Yanko Design shows its followers a kitchen design hack in this particular reel. This is an excellent way to create a community around your business with engaging and helpful content.
Instagram Reels will continue to be a massive trend in 2023 for businesses as it is a great way to create brand awareness and increase brand engagement on Instagram.
Link stickers to improve traffic
It's known that Instagram could be more generous when it comes to places you can insert links. However, things are changing. Towards the end of 2021, Instagram introduced link stickers to replace the swipe-up feature.
Initially, the feature was limited to a few users but was released to all accounts later. The access to the feature for all accounts makes it a trend that will continue to grow into 2023 as more creators and businesses use this.
Link stickers allow you to attach a link to your Instagram stories. The link appears on a white background, like in the example below. When a viewer taps on the link, a pop-up prompts them to click to continue to the link. Upon clicking the link, the link loads on the Instagram browser, and the viewer is taken to the link destination.
Source
The use of link stickers is a great way to promote your business, as you can redirect Instagram's wider audience to your site. You can use Instagram stories to create awareness of your products and offers and direct users to your site or blog post.
The link sticker has only been around for a year, and you should take advantage of this great Instagram feature in 2023.
In conclusion
Instagram is an excellent platform for active users, creators, and businesses. Going into 2023, Instagram will continue to be an essential social media marketing platform.
Therefore, you need to pay attention to the above-discussed trends on Instagram as we go into 2023. Keep in mind on Instagram that content is king; however you choose to leverage it, either through UGC, using reels, sticker links, or even the AR effects, your content must be of the highest quality.
In addition to quality content, you must ensure you are relatable. These trends on Instagram will empower you to use Instagram to grow your brand exponentially.
About author
Harry leads the digital marketing team at Twicsy, a site providing services to Instagram users. He enjoys travelling and relaxing with friends in his spare time.