Top domain extensions (ngtld) of 2022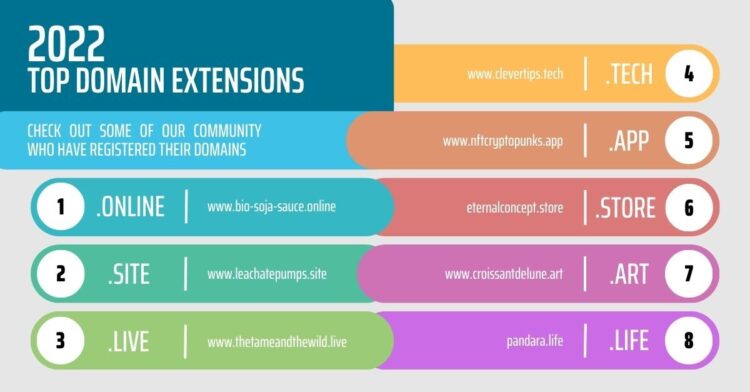 To kick off the new year, we're rounded up the 20 most popular domain extensions from 2022. We've got some new entries this year as well as some firm brand favourites holding strong from across the last few years.
In a bit of a throwback - we've created a rundown of the most popular new generic domain extensions of the year. And just for you we've added in businesses that have registered with us. So take a look at the domain extensions and what our community is getting up to!
Lets go!
online - www.bio-soja-sauce.online
site - www.leachatepumps.site
live - www.thetameandthewild.live
tech - www.clevertips.tech
app - www.nftcryptopunks.app
store - www.eternalconcept.store
art - www.croissantdelune.art
life - www.pandara.life
energy - www.electromontaj.energy
dev - www.janstevens.dev
group - www.netzsch.group
shop - vintages.shop
world - www.futurework.world
immo - www.venta-group.immo
cloud - www.materialise.cloud
agency - www.thingstodoinbudapest.agency
africa - www.hrafrinvest.africa
spa - www.aquazone.spa
golf - www.zafirohotels.golf
team - www.10.team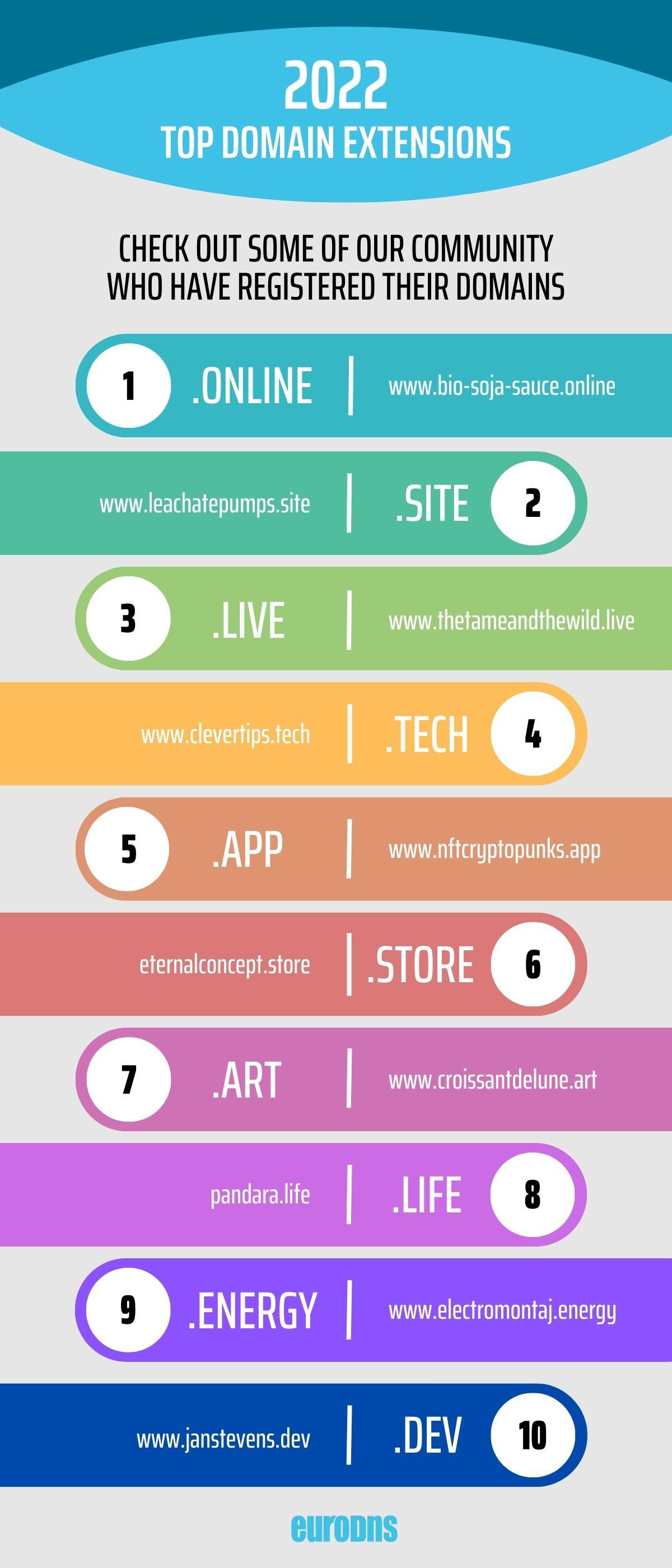 We've got newcomers this year such as .golf, .team and .africa. Our community of businesses are doing amazing things with their domains, you've got luxury golf experiences, sports management agencies right through to HR and talent companies in Africa.
With a growing eco-consciousness its of little surprise to see .energy make its way on to the list. Electromontaj who are our featured business are keeping up their green credentials by looking to move the world to a sustainable electricity based future.
And the introduction of .golf to the list tallies with the rising popularity of the sport. Research has shown that golf has enjoyed a significant increase in popularity worldwide since 2016 with over five-and-a-half million additional golfers taking up the sport. The number of total golfers globally has increased from 61 million to 66.6 million in a five-year growth period. With such a boom in participants this TLD could be on the rise in future lists.
While Africa's rapid growth in tech has seen it transform it into a start-up hub. The recent digital transformation has seen the continent become home to seven startups worth over $1 billion. Adding to this, private capital fundraising reached record levels of US$4.4 billion in 2021, an increase of 63% over the annual fundraising average of $2.7 billion from 2016 to 2020. With Africa continuing on its trajectory to becoming a global tech leader .africa could become an increasingly common TLD in the near future.
Creativity is clearly no issue for our community, with such a broad range of ideas. What will you do with your domain?
If you need a hand or have any questions, feel free to get in touch and one of our team will be happy to help.