Website or Facebook: which is better investment for SMEs?
Time to "unlike" Facebook? With changes to its algorithm, not to mention the Cambridge Analytica scandal, many SMEs are wondering if investing in Facebook is the best use of resources. Especially when registries (like us) offer affordable alternatives to help SMEs create a website that lets them control their own online presence.
Does your SME need a website?
The short answer is a resounding YES.
Not having a website is likely causing your SME - no matter how small - to lose out on a lot of potential customers who would, otherwise, be willing to visit and interact with you. If your SME is relying on Facebook to do most of the heavy lifting, you could be in trouble:
As of 2017, almost half of all SMEs surveyed did not have a website
Google accounted for 91% of site visits produced by mobile search in Q3 2017
93% of all online experiences begin with a search engine
Of those that invest resources in Facebook, one in four SME owners say Facebook is "not effective" at driving organic traffic to their small business website
More than half of small business owners report seeing no ROI from their Facebook activity
The reality is that SMEs can't afford to not have their own website. In today's world, a business site isn't just recommended; it's a necessity.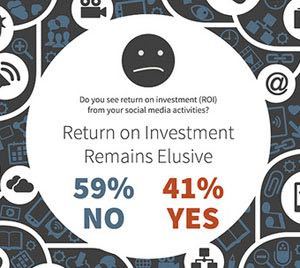 SMEs have little, no control with Facebook
Facebook has proven to be a useful tool for many SMEs looking to promote and increase awareness of their brand. But relying solely on Facebook to reach audiences, nurture leads, and walk customers through their entire journey isn't likely to deliver sustainable results.
Here's why.
You don't own your own data
Facebook owns your customer data and they can do whatever they want with it. What's to stop them from offering it to third parties (even if Mark Zuckerberg denies claims that Facebook "sells" data) or from allowing third party apps (like the one used by Cambridge Analytica) from gathering data on your customers? Ultimately, Facebook is in it for Facebook, not for you or your customers. With your own website, you can use any number of useful tools that will enable you to keep – and protect – your customers' data.
You don't own your leads
There's no question that creating content for social media platforms is a great way to attract some visitors (more on this point in a minute) but you're not likely to see a huge ROI in the long run. You can't, after all, be sure that customers will even see you in their news feeds, especially in light of Facebook's ever-changing algorithm. (Facebook announced yet another change earlier this year with a return to its classic "News Feed Values.")
The Data and Marketing Association reports that, in fact, email still guarantees the highest ROI. You can't be sure you'll pop up in a news feed but asking customers to subscribe to your own site's email list will ensure your message ends up in their Inbox. And no one's going to share your email list since it's your property, no one else's.
Your reach is limited
Facebook can help reach customers who use Facebook but what about all those who don't, a number which has increased slightly in the wake of the Cambridge Analytica scandal. (A recent report has found that roughly 15 percent of Facebook's users have already or will soon decrease their usage of the platform.) Anyone not already on Facebook who attempts to see your page will be blocked from doing so if they don't sign up for an account, another problem they won't experience when they land on your website.
You can't keep the focus on you
With so much content on Facebook now, users don't have time to fully engage with all of it. Marketers have seen for some time now that engagement averages have taken a sharp decline, the result, in part, of too many businesses competing for the same number of eyeballs and clicks, a problem SMEs don't experience with their own websites which are designed to capture a user's undivided attention. Of course, an SME still needs to drive traffic to their site but a solid semantic SEO strategy can help with that.
Your Facebook profile is not customisable
A Facebook business page is similar to a website in that it provides the same basic function: sharing information about who you are and what you offer. But you cannot change the basic design of your Facebook page or add additional features. At the end of the day, your Facebook page will look like – well, a Facebook page. Facebook controls what you can and can't do. These days, thanks to easy website builders like WordPress, it's not difficult for even the most technologically challenged to create a distinctive, user-friendly site.
Creating a website, the smart alternative for SMEs
Ultimately, Facebook should be seen as just one important component of an overall social media marketing strategy. But, with so many limitations, it shouldn't serve as your business's primary hub. There's just no substitute for controlling your own online presence, user personalisation, and lead nurturing.
And the bottom line is that you don't have to be Mark Zuckerberg to create a landing pad for your customers. Web builders like WordPress make the process relatively simple and straight forward. On top of that, you have over 800 domain extensions to choose from to help you create just the right branding image, one that is memorable, distinct, and owned by no one but you. In other words, all the things you CAN'T do with your Facebook profile.
To get started building your SME's online hub, you'll need to register your domain name with an appropriate extension. When you register your domain with EuroDNS, we will provide you with free managed Anycast DNS services, an Alpha SSL certificate, and a customised, professional email package.
And if your SME needs help getting started, feel free to get in touch with us. We're more than happy to help!