How to create a sports blog: the ultimate beginner's guide
Got a passion for sports? Ready to launch your own sports blog so you can share all there is to know about player stats, .GAME wins, and playoff finals? Lay the right foundation with this five-step process for blogging beginners. From domain name to hosting choice, get your blog up and running with these basic tips and tricks.
Sports-related blogs are in high demand!
Sports fans are hungry for breaking news about their favourite fans, teams, and sporting events. And in today's media landscape, there is no shortage of hot-takers, opinion makers, and conversationalists providing fans with everything from analytically-driven recaps to in-depth interviews.
Nowhere is this truer than in the blogosphere with sports related blogs consistently ranking among the most popular: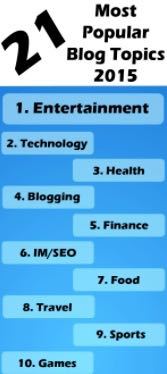 Source: Techmasi

There has never been a better time to launch a sports-themed blog. But the trick to making sure it's successful is knowing how to lay the proper groundwork. Here are 5 basic steps to help you get started.
Step 1: Register a domain that gets you out of the bleachers and into the .GAME
Help your blog stand out with a domain name that is:
Relevant: Choose a domain extension that unequivocally tells readers what your blog's focus is (.FOOTBALL, for instance) or who it's intended for (.FANS). Or, if you're writing for a more general audience and covering a wide arrange of sports, .GAME could be ideal. Your domain name registration includes a free email address and Alpha SSL certificate, especially important if you're considering monitising your blog.
Easy to remember: Avoid using numbers, hyphens, non-standard spellings, or anything else that might cause readers to stumble.
Easy to share: Make it easy to copy, share, and embed in emails or social media posts.
Easy to type on mobile: Don't overlook the fact that, today, most people access the Internet via their phone.
Step 2: Choose a blogging platform that's a slam dunk
WordPress is an especially popular choice with bloggers and small business owners because it's so easy to set up and includes lots of cool features:
Tons of templates and SEO-friendly plugins
Support to help you monitor, maintain, and update your blog on a regular basis
Hassle-free admin panel for quick uploads and editing
Step 3: Go the distance with the right web hosting service
You web hosting subscription is the rent you pay for the space your site/blog requires on a server. Some things you'll want to consider first:
How much space you'll need for content, images, and videos. (Or don't: EuroDNS offers unlimited storage so you won't need to give it a second thought.)
How much you want to spend: Our unlimited Linux package starts at just €14.99 a month.
How much time you have for data backups and security patches. (Or, again, don't: these are automatically done for you when you use our service.)
Step 4: Stay ahead of the game by planning your posts
Consider creating an editorial calendar to help you organise your content:
How often will you publish new content? Consistency is key.
Determine your categories. Consider what your audience is going to be interested in: football, basketball, tennis, interviews, game highlights.
Write down special events – a playoff game or world cup, for example – that further determine what and when you'll publish.
Step 5: Publish, share, and touch base with your readers
And you're good to go! Spread your news around on social media. Put out a call for guest writers. Become familiar with ecommerce SEO tricks to help you monitise your sports blog (think memorabilia, autographs, tickets).
Whatever you're ultimate aim is, following these basic guidelines are sure to help you stir up a crowd! Good luck and get in touch with us if you have any questions about products or services listed in this post. We're always happy to talk!