.LU ccTLD for Luxembourg hits 100,000 domain registrations

.LU, country code domain extensions (ccTLD) for Luxembourg, has just hit an important milestone: 100,000 registrations! If you, your business, or organisation targets Internet users in Luxembourg, registering a .LU domain name is a must. Here's why.
.LU domain registrations hit new high
.LU registry the Restena Foundation (Réseau Téléinformatique de l'Éducation Nationale et de la Recherche) reports that as of June this year, .LU domain registrations have reached 100,000, a major milestone for Luxembourg's ccTLD.
According to Restena's findings:
Roughly 1 in 6 Luxembourg inhabitants have registered a .LU domain name
Three quarters of .LU domains are registered by companies and organisations
80 percent of .LU domain registrants are located in Luxembourg, Belgium, France, and Germany
.LU's growth rate is steady, averaging 3 - 4 percent over the past couple of years
Renewal rate is no less than 89 percent
By the first half of 2020, Restena will open up one and two character names for .LU registration, prohibited since 2000. Restena predicts this move will open the door for even greater future growth.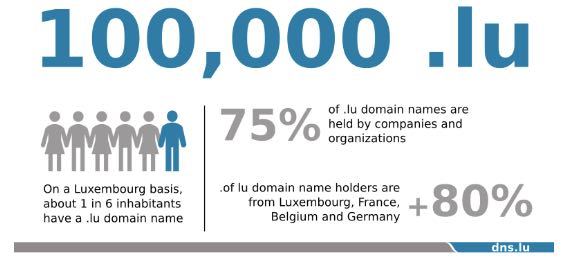 .LU domain name benefits
Targets traffic
The .LU ccTLD enables you to attract the attention of Luxembourg Internet users. .LU domain names are immediately recognisable to and, therefore, trusted by Luxembourg users.
Establishes familiarity
Luxembourg customers know just by looking at your domain name what languages you speak, what time zone you're in, and how easy it will be acquire your goods and services.
Improves search ranking
A .LU domain informs Google that your business is targeting Luxembourg. Localisation hints like server locations, geo targeting settings, and especially corresponding ccTLD will improve your search ranking when targeting a country. In fact, ccTLDs top Google's list of elements used to determine country targeting.
.COM alternative
With fewer and fewer .COMs available, a .LU ccTLD is a smart ways to establish your online presence. Then again, even if you've already registered a .COM, registering a .LU ccTLD can help you catch all the online traffic your brand name or keywords are generating. You can forward traffic coming to that domain to your .COM. Your .LU domain name will enable you to cast a wider net.

Improve your Luxembourg presence with .LU!
Register your .LU domain name at EuroDNS and you'll receive a free Alpha SSL certificate, our Classic DNS, and a professional email account. We also offer support by phone, email, or live chat in multiple languages.

A .LU domain is a sure bet for any individual, business, or organisation targeting Luxembourg Internet users. Register your .LU domain name to solidify your online presence in the Grand Duchy of Luxembourg!