6 steps to create a successful content strategy for your e-commerce business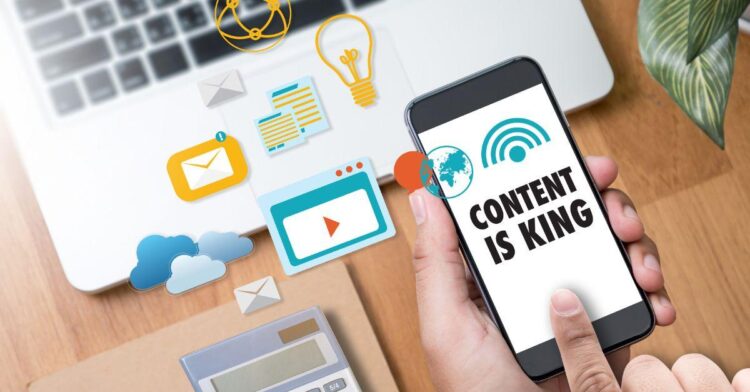 This article provides a step-by-step process for creating a high-converting content strategy for eCommerce businesses. We'll talk about creating a buyer persona, identifying content for each stage of the customer journey, and creating content. We'll show you how to optimise content for organic search, promote it, and track your results.
A successful e-commerce content strategy is often the key to reaching your target audience, increasing your ROI, and achieving your overall business goals.

Let's look at how you can create a successful content strategy for your e-commerce business in six steps, shall we?
1. Understand your target buyers' persona
An excellent e-commerce content strategy starts with understanding who your ideal customer is.
Buyer personas are representations of your ideal customers based on a combination of data and research. Defining one for your business can help you focus on qualified prospects instead of taking stabs in the dark, hoping to reach the right customer.
Having a buyer persona can help you guide product development to suit your target customers' needs and streamline your organisation's processes, from marketing to sales to customer service.
As a result of doing the groundwork correctly, you'll be able to attract high-value visitors, capture quality leads, and drive customers to your business. Not to mention the chance to transform them into repeat customers, the lifeblood of every e-commerce business.
See a coherent definition of buyer persona in the image below.
Source
To understand your target buyer persona, you must learn how to analyse the customer data you collect carefully. You can research on website forums, ask people on social media, or go through the customer data you already hold.
Alternatively, you could set up Google Surveys, which might offer interesting insights into your buyer persona. There are some drawbacks to this option, though. People have become wary of clicking on surveys online, especially anonymous ones, as they might fear situations where their identity is stolen.
From this research, you'll be able to understand more about your buyer persona, specifically the following:
Age, gender, location
Personality traits
Why they're browsing your site
Preferred sites, social media, and apps
The persona itself could look like this:
Source
Before you come up with valuable content ideas, enter the online shopper's mind. Going the extra mile here helps marketers sharpen their message, identify alternative marketing channels, and anticipate obstacles to conversions.
Storytelling is a big part of an e-commerce content strategy. Knowing customer stories and who you're trying to entice with your tale is the only way your products' benefits will clearly be understood.
2. Identify content that aligns with buyer's journey
The buyer's journey is convoluted and messy and has many different touchpoints. The buying funnel is usually construed as follows:
Source
The top of the funnel is where the potential customer seeks information about problems that your products can, unbeknownst to them, resolve. The prospects at this stage of the funnel usually aren't ready to make any purchases. They just want answers.
Therefore, your goal at this point should be to provide your, hopefully, future buyers with the answers they need. That means focusing on informational content. It's also your chance to introduce your brand to potential customers.
Next, your potential customers will move to the middle of the funnel. Prospects in this stage are aware of their problem and know they need a solution. They're, therefore, on the market considering multiple solutions. They could be searching for product comparisons, for example.
Therefore, you can target prospects at this point of the buyer journey with content types such as product comparisons, case studies, and reviews. These types of content can be distributed on your website, social media accounts, and even email.
The last stage is called the bottom of the funnel, or the "seal the deal" phase. This is a phase where prospects become customers. In other words, the prospect knows about the problem, is aware of the available options, and, more importantly, is ready to spend money on the right solution.
The keyword there is "right solution." So, at the bottom of the funnel, your goal is to convince the prospect that your solution is exactly what they need. You must also nudge them to convert and not delay the purchase any longer.
For example, you may offer a discount but make it time-limited to nudge the prospect into converting fast.
Some of the best types of content for this stage are free products, discounts, and customer success stories.
3. Research and create content
You now know who your target audience is. You're also aware of the different stages of the funnel to create content for. Plus, you know the right type of content for each stage.
Therefore, the next step of a successful e-commerce content strategy involves research and actual content creation. And there are various ways to come up with content ideas.
You can start by evaluating the data you already have on your customers. For example, if while creating a buyer persona, you realise most users experience a certain pain point, you can create helpful top-of-the-funnel content around it.
The other strategy is competitor analysis. SEO tools like Google Keyword Planner, Buzzsumo, Ubersuggest, and Semrush are pretty effective here. By analysing your competitor's URL, these tools will tell you the content your competitors rank for. You can then create even better versions of that type of content for your website.
You can also use these tools to analyse your primary keyword and get additional related keywords. Here's an example of search queries and volume of searches for "luxury shoes" in Semrush:
Source
After identifying the target keywords, create in-depth and valuable content to ensure the search intent for the keyword is fully satisfied. Use writing tools like SurferSEO and Clearscope to ensure your content contains all the relevant keywords.
Moreover, grammar checkers like Grammarly and Hemingway will ensure your content is flawless and professional.
It's advisable to develop a content strategy that caters to prospects at all stages of the buyer's journey. And AI tools like Writer can help you with this by ensuring all your content aligns with your brand voice and style. This increases your effectiveness at attracting, nurturing, converting, and retaining loyal customers. You'll see a higher content marketing ROI with this approach.
Moreover, we'll advise you to embrace a multichannel approach. Publish content on your website and all social media channels popular among your audience. You should also collect the prospect's email addresses and run email marketing campaigns.
Lowe's is an example of an e-commerce company with a brilliant content strategy. They have an extensive blog with exciting articles and buying and how-to guides.
Source
In addition, they maintain an active social media presence with fun content.
Source
You can bet that Lowe's also has an email marketing strategy in place.
With this approach, Lowe's creates multiple touchpoints with its potential customers. This is vital in boosting conversions and cultivating customer loyalty. You need something similar for your e-commerce store.
4. Optimise content for organic search
28.5% of internet users click the first result on Google. The clicks drop as you go further down the search results.
Source
To drive more traffic to your website, you must optimise your content for SEO. Whether a blog post or product description, the content must be optimised for maximum visibility on the search engines.
One of the most effective ways to achieve that is by including the relevant keywords in your articles. Search engine crawlers analyse keyword density to determine your content's relevance for a particular target keyword. The right density will help your content rank higher for that keyword.
That doesn't mean you should stuff your content with the keyword. That could get you penalised. Instead, use different variations of that keyword while also incorporating long-tail keywords.
Clearscope, Surfer, and Frase can help you get the perfect keyword density for your content.
Use headings (H1, H2s, and H3s), internal links, and schema markup. Building links to your content will also boost your rankings, as backlinks are still a predominant ranking factor on Google.
You can learn more about optimising your content for search engines in this SEO guide.
5. Create a content promotion and distribution plan
You've almost made it.
Now, all you need to do is understand how to best share your content with your audience.
An editorial content calendar is an absolute must-have if you plan to publish your content regularly. Free software such as Google Sheets or Google Calendar are great options, or you can spice it up with apps like SproutSocial and Hootsuite.
Here's an example of a content calendar:
Source
Distribution of your content can happen in many different ways. Here are some of the best-known ones:
PPC (pay-per-click) advertising is always a viable option where you, as an advertiser, pay for clicks or impressions.
Email marketing is an effective content distribution channel. You can repurpose your content for email marketing and share it with your email list.
Social Media is what pops into everyone's mind when thinking about content. And they'd be right. Just a word of advice: make sure your creative game is on point. The best social media networks depend entirely on where your core audience spends their time, but Pinterest, Facebook, Instagram, TikTok, and YouTube are generally safe choices.
In its simplest form, a content distribution strategy involves repurposing a single piece of content for different channels. For example, you can repurpose a how-to blog post into a YouTube tutorial. Then share the clip on other platforms like Instagram and TikTok.
The how-to blog post can be shrunk into shorter steps and shared as a Twitter thread.
This approach increases your content's range. It allows you to use the same content for different platforms to reach a larger audience. That increases the ROI for each content produced.
6. Track your results
Your e-commerce content strategy does not end after content distribution. Another crucial step is tracking the results. This is the best way to determine whether your approach is working. That allows you to double down on what resonates with your audience and use it as a guide for future content creation.
The metrics you'll track will ultimately depend on the channel and type of content in question. Your business goals may also play a role in determining which metrics should be monitored.
Generally, rankings, traffic, dwell time, and conversion rates are critical for your on-site content, like blog posts.
How visible is your content on the search engine results pages? You want to rank among the top four results where most clicks happen. That would mean investing in SEO to raise your rankings.
If your dwell time is low, which would mean a high bounce rate, consider the quality of your content. Is it really addressing the search intent? Does it align with the meta title and description that triggered the user to click your page? If the answer is yes, then you may be dealing with other technical issues. For example, your page load times might be slow, causing more people to bounce.
What about conversions? What percentage of your people click your CTAs? To optimise that percentage, consider running A/B tests on items like CTA placement and value proposition.
Elements such as traffic sources can also prove vital. These can show the channels bringing the most results, helping you know where to focus your efforts.
And you can track all these metrics with Google Analytics and the search console.
Source
You should track the results of every channel you're using. That would include email and social media. For email, analyse your bounce, click-through, and conversion rates. Meanwhile, monitor the reach, impressions, engagements, and audience growth to improve your social media strategy.
In summary
E-commerce business owners must understand that devising a comprehensive strategy and pushing it to the right audience can change their business. We live in a time where good results cannot be ignored. If someone is doing something that works, other businesses have to pay attention.
Many e-commerce businesses are getting great results with a foolproof content strategy. A strategy that goes beyond product descriptions and random product videos.
From this article, you've learned how to create a successful content strategy to increase your reach and boost conversions. Identify your target buyer personas, understand the buyer's journey, research & create your content, then optimise the content for search engines.
Finally, create a content amplification strategy and track your results. All the best.
Author Bio
Plamen Popov is the content and communications specialist for Writer
Plamen has previously worked to develop content marketing strategies for brands like MFG, Kinguin, Acronis and Metrilo.