Top 10 killer e-commerce marketing tips for small business growth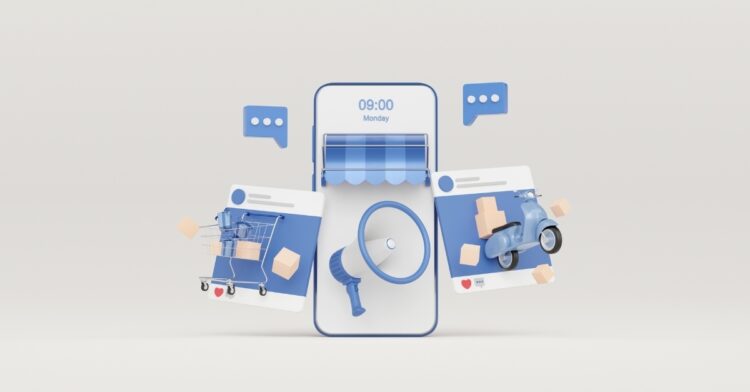 E-commerce is a massive industry that is only getting bigger. More people buy the things they need online than ever before, which has created massive competition in the small e-commerce business world. Small businesses need to know how to market themselves properly if they want to survive. This blog offers marketing tips for them.
E-commerce has grown steadily for the past decade and, in turn, has created many small businesses competing for customers. While more than enough money is being spent online to go around, small businesses are constantly competing for a larger slice of the pie.
You need to optimize your marketing to beat your competition and become a successful online eCommerce store. This article will dive into e-commerce marketing and the top ten marketing tips small businesses need to utilize for maximum e-commerce success.
What is e-commerce marketing?
E-commerce is a term used to describe buying and selling goods and services over the internet. You can use the term to describe both business-to-consumer (B2C) and business-to-business (B2B) transactions.
E-commerce can be conducted through various platforms, including online stores, marketplaces, and auctions. eCommerce can also be done through social media platforms like Facebook and Instagram.
What are top 10 killer eCommerce marketing tips to grow your small business
Here are the ten best e-commerce marketing tips to grow your small business bigger and faster than ever before.
1. Leverage email marketing
Email marketing is an excellent eCommerce tip for small businesses because it's a cost-effective way to drive growth. Segmenting your contact list and personalizing content will increase your chances of converting leads into customers. Reinforcing your branding and messaging with a clear call to action will help you achieve your business goals.
Email marketing can be leveraged best with cutting-edge software tools available today at reasonable prices. With all the emails needed to be sent, many people opt for client management tools with templates, auto-senders, and email list-building software so they don't have to do everything manually.
2. Be mobile-friendly
Small businesses, in particular, need to ensure their website is mobile-friendly. With more and more people using their phones and tablets to browse the internet if your site needs to be responsive, you're losing out on many potential customers.
A responsive website will automatically adjust to the screen size on which it is viewed, so it will look good no matter the device used. This is important because you don't want your customers to have to scroll around and zoom in to see what you're selling.
Another reason to make your site mobile-friendly is that Google now uses mobile-friendliness as a ranking factor for search results. So if your site isn't up to par, it could be more challenging for people to find you online.
Making your website responsive may seem like a lot of work, but it's worth it in the end. Not only will you be providing a better experience for your customers, but you'll also be making it easier for them to buy from you.
3. Create content for building customer loyalty
Content marketing can help build customer loyalty for your small business when done correctly. By providing your audience with valuable, relevant, and consistent content, you can earn their trust and encourage them to return to your site repeatedly. This type of communication can also create long-term relationships with your customers, leading to increased sales and revenue.
Creating more customer-friendly content is a great way to boost your e-commerce business. Not only does it help you connect with your customers on a deeper level, but it also allows you to communicate your brand's message more effectively. Ultimately, this can result in more purchases and a more substantial online presence for your company.
4. Have opt-ins and pop-ups
Small businesses often struggle with conversion rates, but opt-ins and pop-ups can help improve these numbers. Here's why:
Opt-ins and pop-ups encourage visitors to take the next step and sign up for your email list or loyalty program. This helps grow your contacts, which you need for email marketing, plus it helps boost sales.
Offering a 10% discount and free shipping on orders above $100 to sign up may influence an uncertain shopper to take the next step and purchase.
Even if the customer doesn't immediately make a purchase, you now have another contact in your database, so there is still a potential purchase down the line.
The ideal time to display pop-ups is before customers leave your site. It's essential to test your opt-in offers and optimize accordingly, too.
Ultimately, the more email addresses you collect, the more sales you'll make.
5. Reduce abandoned carts with automated tools
Up to 75% of eCommerce customers leave items in their shopping carts. That's money left on the table for you to grab. Here are a few reasons why using automated abandoned cart reminders is an excellent idea for small businesses.
An easy way to recapture lost sales: Automated reminders can be sent quickly and easily, reaching customers who may have forgotten about their items.
Improve customer engagement: Automated reminders can help improve customer engagement, increasing the likelihood that customers will return to your site and purchase.
Stay more connected: Automated reminders are an efficient way to stay connected with customers. They provide an opportunity to remind customers about products they are interested in, build goodwill, and increase brand awareness.
Offer installment payment option: This will reduce the shopping cart abandonment rate. Many customers abandon their carts when merchants do not offer their preferred payment method.
Overall, automated abandoned cart reminders are a valuable tool for small businesses looking to improve their eCommerce operations.
6. Utilize social media
Social media marketing can be an excellent eCommerce tip for small businesses and is a cost-effective way to connect with potential customers and promote products. It also allows companies to build customer relationships, leading to future sales.
Instagram is an excellent social media platform for eCommerce. It's visual, which makes it a great way to showcase products, and it's popular, with over 700 million active users. That means there's a large potential audience for businesses to reach.
Facebook is a good option for eCommerce. It has over 2 billion active users, making it the largest social media platform, so businesses have a massive potential audience to reach. Facebook also offers Shopify integration features that make it easy to set up and manage a store on the platform.
7. Always go for the upsell
Small businesses have a lot of potential ways to scale their sales regarding upselling in eCommerce. Companies can increase their average order value (AOV) and revenue by consistently going for the upsell.
There are a few key reasons why upselling is an excellent eCommerce tactic.
A great way to increase customer loyalty: When customers feel like they're getting a good deal, they're more likely to return. Additionally, upselling can help increase customer lifetime value (CLV). The more products a customer buys from your store, the more valuable they are as a customer.
An excellent way to increase sales without spending too much time or money: With a well-executed upsell strategy, you can see a significant return on investment (ROI). And, since it doesn't require much extra effort, it's a great way to boost your sales without putting in extra work.
An effective way to improve your bottom line: By increasing AOV and CLV, you can see a significant increase in revenue without having to make any big changes to your business.
Overall, there are plenty of reasons why small businesses should focus on upselling. By using this simple tactic, you can see a significant increase in sales and revenue.
8. Accept digital currency
Offering multiple payment options, including digital currencies, is an excellent eCommerce tip for small businesses. By accepting other payments, you can cater to a broader audience and increase your sales. Additionally, digital currencies are becoming increasingly popular, so offering this payment option to your customers is essential.
There are several benefits of accepting digital currencies.
Transactions are quicker and cleaner
Provide financial flexibility and security
Will improve your bottom line
There are many other options available for customers to pay for goods, and the more of them you offer on your site, the more money you will collect. Apple Pay, PayPal, and Google Pay are becoming increasingly popular.
9. Utilize live chat options for more personalization
More than 80% of customers prefer live chat when dealing with a company. When it comes to eCommerce, small businesses have the advantage of being able to provide a more personal experience for their customers. This can be done by utilizing live chat software, which allows customers to ask questions and express concerns before buying.
This is also an opportunity for your agents to share product information and knowledge base articles to help your customers make better-informed decisions. Live chat also helps iron out any uncertainties and increases your conversion rate while improving the shopping experience for your customers.
Live chat can even be used strategically to target website visitors on specific pages or when they've been on pages (such as product pages, for example) for a certain amount of time, helping boost that all-important customer engagement.
Small businesses can offer more personal and intimate customer experiences than larger businesses. To maintain authenticity and friendly interactions, integrate one-on-one messaging apps such as WhatsApp, Facebook Messenger, or WeChat. This will help you build lasting relationships with your customers and keep them coming back for more!
10. Increase website traffic with SEO best practices
Small businesses can benefit significantly from SEO best practices for their online store. When you appear in the top 10 search results for your products, this brings more organic traffic to your website. In fact, the number one result is ten times more likely to be clicked on than other results.
This is free traffic that you don't have to pay for, and it can result in more sales and customers for your business.
SEO is not a quick or easy fix, but it is worth the investment. You can pay an agency or use some of the many SEO software tools available. You need to perform keyword research and include keywords in your page URLs, product descriptions, and blog posts. You must also optimize your website structure and create a good user experience. And finally, you need to build backlinks from other reputable websites.
You can significantly increase organic traffic to your online store if you do all these things.
In summary
E-commerce has grown steadily for the past decade and, in turn, has created many small businesses competing for customers. You need to optimize your marketing strategy to beat your competition and become a successful online e-commerce store.
With these marketing tips, you will have the edge you need to reach more customers, retain more clients, grow your business, and ultimately generate more revenue.
Author Bio
Andrew Dunn is a serial business builder with over seven years of experience growing businesses. He is the founder of INDMND.com, providing valuable insights for business owners to leverage technology to 10x their businesses.