5 good reasons why you should register a ccTLD

Some ccTLDs are among the most frequently registered domain extensions in the world. And yet, with the emergence of new generic domain extensions, they sometimes come as a second choice despite their numerous benefits. In this article, we're taking you through the history and the many pros of getting a ccTLD.
You may know your own country's ccTLD, but not being fully aware of the benefits of registering such a domain extension. Let's recap together why you should consider getting a ccTLD.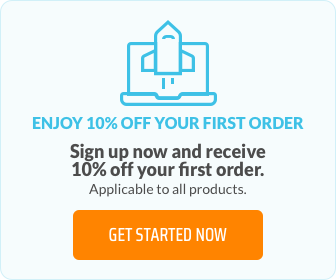 What's a domain extension?
As you already know, a domain is an address that you type in the browser URL bar to visit a website. The domain extension, also called TLD (Top-Level Domain) is the "after-the-dot" part. In the following example, .ORG is the extension.
When choosing a domain for your website, picking the right domain name is of course important, as it has to represent your brand. But picking the relevant domain extension is no less crucial. With around 1,500 existing domain extensions being split into several categories, it's essential to have good knowledge of which TLDs address to whom. Below are the three main categories of domain extensions:
gTLDs - seven original generic domain extensions that were created at the beginning of the existence of the Internet: .COM, .ORG, .NET, .INT, .EDU, .GOV, .MIL
new gTLDs – new generic TLDs such as .TOP, .LOAN, .XYZ, .ONLINE
ccTLDs – country code top-level domains such as .US, .LU, .FR, .DE, .EU, etc.
Who is responsible for domain extensions?
The Los Angeles-based non-profit organisation ICANN (Internet Corporation for Assigned Names and Numbers) manages the domain names system. As such, it decides the opening of any new extension, manages the existing ones, entrusts the technical management of an extension to registries, who then delegate the commercial management to a registrar (like EuroDNS).
Registrars essentially sell domains, manage records, renewals and transfers.
What is a ccTLD?
ccTLD stands for country code Top-Level Domain. It's essentially a two-letter domain extension that is assigned to a country, state or territory based on their ISO country code.
Applications for this type of TLD started in 1985, the first extensions registered that year being .US (United States), .UK (United Kingdom) and .il (Israel). There are over 300 ccTLDs to this day, of which .CN (China), .TK (Tokelau), .DE (Germany), .UK (United Kingdom) have the most domains registered.
There were 156.5 million ccTLD domains registered at the end of March 2021.
The registration of ccTLDs is subject to restrictions that may differ. While some require a local presence, others only a larger presence (eg. European presence to register .FR), while for others you will have to prove you have lasting ties with this country or territory.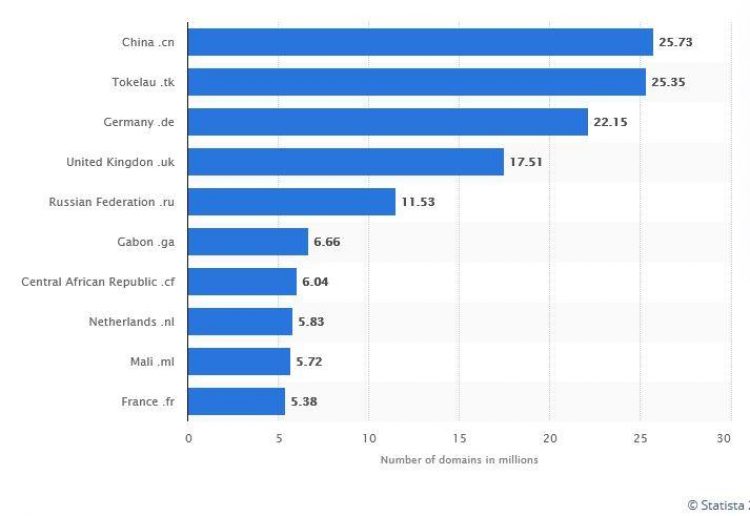 Leading ccTLDs as of April 2021, by number of registered domains (in millions)
Outdated ccTLDs
The ICANN (Internet Corporation for Assigned Names and Numbers) is the organization in charge of destroying ccTLDs that no longer belong in today's world (among many other things). Some of these extensions include:
.ZR – the domain extension used to belong to the Republic of Zaire, later renamed Republic of Congo, therefore switching extensions from .ZR to .CD. ICANN cancelled .ZR in 2001.
.YU – the TLD dedicated to the former Republic of Yugoslavia ceased to exist in 2010 and has since been replaced by .RS (for Serbia) and .ME (for Montenegro).
Why should I get a ccTLD?
Customer trust
ccTLDs are known for inspiring trust for customers as they are familiar with them. ccTLDs have been around for a long time and are seen as serious extensions, unless most of the new gTLDs that can be seen as too funky.
By using a ccTLD, you are also sending a message to your existing and potential customers that you have a local presence. Registering a domain in .LU will clearly indicate to your audience that you have a Luxembourgish identity or a presence in Luxembourg. Likewise, registering a .EU will show your customers that you aren't only a local company but you have (or plan on having) a European presence.
primerock.lu
Primerock is a boutique alternative investment advisory and corporate solutions company based in Luxembourg.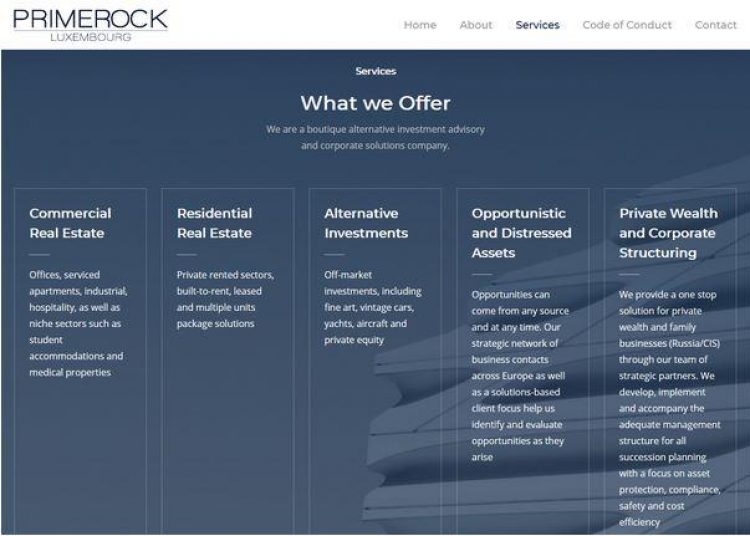 Search engines like ccTLDs
When you use a ccTLD, you are letting Google know that your business is targeting the particular country that extension is assigned to. To determine the best target audience for a page, Google looks at the ccTLD of your site as it tells search engines that your site is explicitly intended for a certain country.
Using a ccTLDs, you don't need to rely on Geotargeting to target your site content to a specific country and market (a method which is generally useful for websites using gTLDs not affiliated with any specific country.
advancedmobilityservices.fr
Advanced Mobility Services proposes intelligent track and trace IoT solutions to get more business value from assets, machines, fleet, employees, contractors and suppliers. By registering their domain name with several country TLDs, they make sure that their websites are targeting their different markets.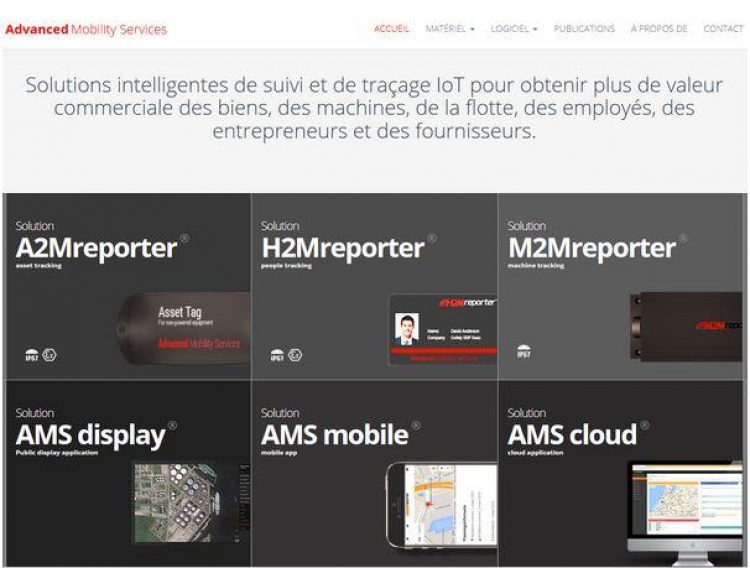 ccTLDs have more availability than .COM
Choosing a ccTLD can be a good option if you were interested in getting a .COM extension but your preferred domain name wasn't available.
With over 150 million domain registrations, .COM is usually registrants' preferred domain extension. But that popularity comes with limited availability. Opting for a ccTLD is a good way to keep a serious image while still having a reasonable choice of domain name.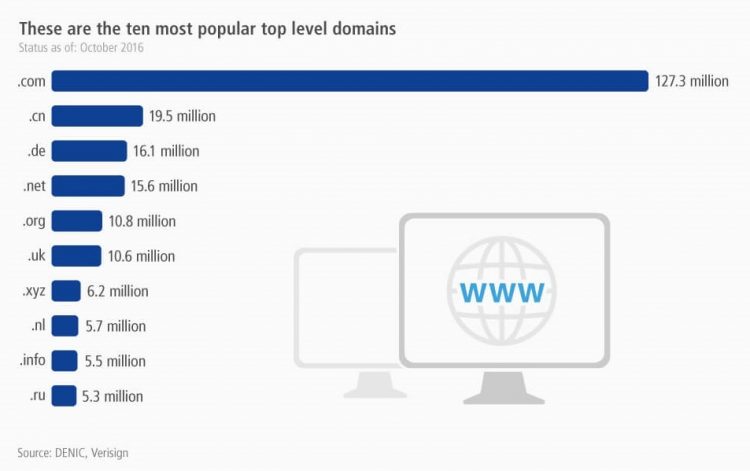 Supposing you want to register the domain name "ukuleletabs.com". As you can see below, this domain is not available with the .COM extension, but it's available with plenty of ccTLDs such as .FR, .BE, .LU, .DE, etc.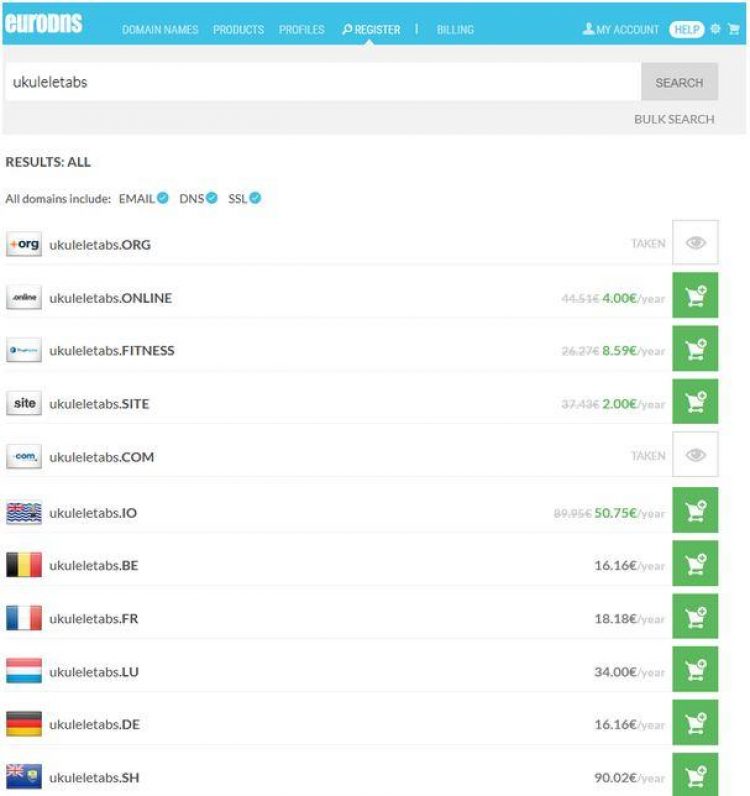 ccTLDs are shorter than most extensions
As mentioned before, ccTLDs are composed by two letters, a characteristic that makes them the shortest domain extensions on the market! This can be a great advantage, particularly if your brand name is a bit long and you don't want to associate a longer TLD to it.
A short TLD will make your website URL easier to remember for clients and easier to print on business cards.
huellavacacional.es
Huella Vacacional or Holiday Footprint in English, is a website that commits to improving ways to uncover and share the sustainability efforts of its own holiday rental homeowners and rental managers, Spain-Holiday.com is supporting and promoting internationally recognised eco-labels with strict award criteria that are aligned with European and Spanish standards and gives recognised merit to positively managed eco-friendly, sustainable properties.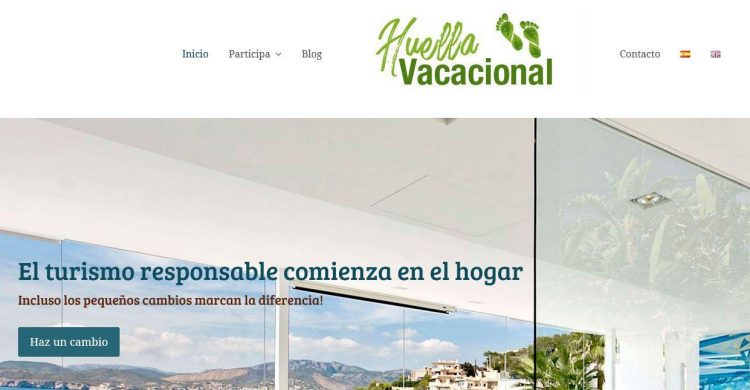 Some ccTLDs can be used as gTLDs
Some country-code extensions are commonly used as generic extensions and can be registered without restrictions. Those include:
.ME – Montenegro's official country-code works perfectly for personal websites or blogs.
.TV – the country-code for Tuvalu island is generally used as a representation of "television".
.FM – The official TLD for the Federated States of Micronesia is particularly popular for radio stations.
.IO - The domain extension for... British Indian Ocean Territory is very popular in the tech industry. Discover why.
Some of these TLDs can be used to create domain hacks. For example, psycholo.gy uses the .GY TLD belonging to Guyana to create the word "psychology".
herzblut.fm
RadioFRO is a broadcasting and media production company based in Austria.
How can I register a ccTLD?
You can register your domain name with a ccTLD at EuroDNS and receive, free of charge, all of the following add-ons: